On April 20th, 2021, we announced that a new WordPress theme has officially been launched. The theme in question was a portfolio theme, built for all sorts of creatives一independent designers, illustrators, brand/marketing agencies, etc. What we didn't know at the time was that we had made a mistake when naming the theme.
Here's everything that went down in the past few weeks and what we are doing to make amends.
You are talking about the Rapto WordPress theme, right?
Yes, that's correct. Last week we launched the Rapto WP theme and announced it to our users and followers on social media. We were so excited for Rapto to see the light of day, as it was one of the most requested theme launches we've had in a while.
So, what happened?
Not long after we announced the launch on our social media handles, a Twitter user, Álvaro Góis, reached out, mentioning that the name "Rapto" was highly inappropriate and should not have been the name of the theme.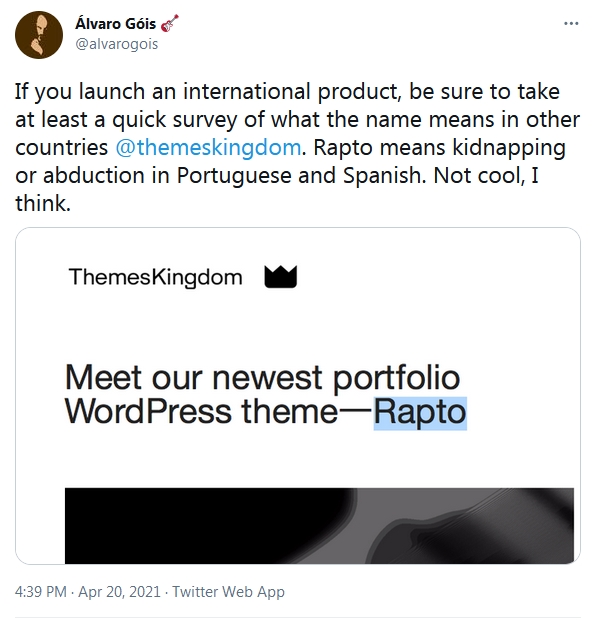 Why was the name "Rapto" "not cool"?
Well, as Álvaro mentioned, the Spanish term "rapto" translates as kidnapping or abduction and can be associated with negative connotations. And Álvaro was right.

Originally, we named the theme Rapto because we considered it to be a theme that is so well-designed and well-built that it captures or "kidnaps" potential clients' attention. It was never our intention to offend or insult anyone.
We are customer focused and your input is crucial to us. So, after this issue has been brought to our attention, we decided to own our mistake and make it right. And that's why we are changing the theme's name.
So, what will Rapto be called from now on?
When we were coming up with a new name, one thing was for sure: we wanted the theme name to have positive connotations and to inspire its users to be the best versions of themselves. So, we decided to name the theme Infigo.

Infigo is a Latin term that can be translated as "impressive", "to impress" or "to imprint". We chose this name because we wanted to give you a theme that will help you impress potential clients, intrigue them to find more about you, and, ultimately, hire you.
Are you going to change the Infigo's design and pricing?
No, everything will remain the same; we are just changing the theme's name.
You can still get "Rapto's" beautifully designed homepage, minimalist Contact page, and super polished News section.

When it comes to pricing, you can get the theme and our hosting if you choose one of the "Hosting included" plans. If you select the hosting option, you also get to test Infigo for 14 days – no payment needed. Additionally, the Infigo theme is also available as a single purchase or part of the annual and lifetime subscriptions.
Have you learned anything from your mistake?
Of course, we have. We're always focused on what we can learn from the mistake rather than the mistake itself.
In the future, we are going to be more careful and considerate when naming the themes. We want our themes to reflect its users' abilities and skills. So, from now on, every theme name will be composed of strong, positive words that won't trigger any types of negative emotion.
We want to give a huge shout-out to Álvaro Góis, once again, who made us question our decisions and helped us improve. Thank you so much!