As a company that builds and sells WordPress themes, we do a lot of research on which themes we should be creating and how they should look (so they fit what WP users want and our company's aesthetic). When we were making Edificio, we truly dived deep into the online needs of architectural design studios and architects.
We analyzed the problems these studios faced when they were building their online presence. We analyzed studios that are 'online famous' and get tons of clients.
Once our research was complete, we meshed all the data in hopes of giving you a theme that would skyrocket your virtual presence.
A couple of weeks later, Edificio's design was born. And then its development.
With much joy and pride, we present you Edificio, a soft yet powerful WordPress theme with a demo that is anything but plain and ordinary.
How did Edificio get its name?
For this theme in particular, coming up with a name was a child's play.

We knew that the name had to reflect the theme's robust and minimal design and the flexibility and intellectual curiosity of an architectural design studio.

So, we decided to name it Edificio, after a Spanish word for building, structure, or framework. The word itself captures the theme's essence completely: how easy it is to pronounce 'edificio' is how easy it is to use the theme and get benefits from it.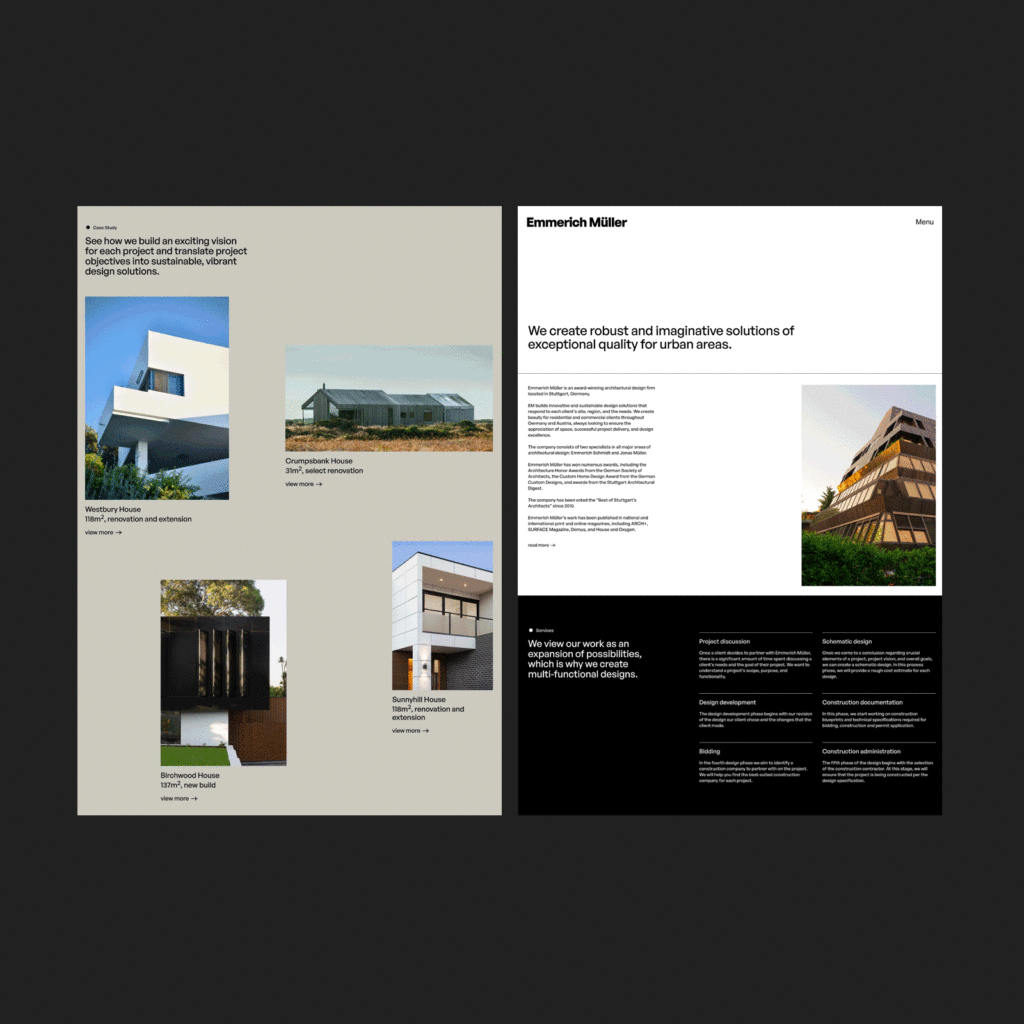 What is unique about Edificio?
Edificio comes with many superb features. Some of them being:
– Full Site Editing. Edificio is an FSE-ready theme that gives you a single interface that you can use to edit all website elements一all that within the Gutenberg blocks. This feature is there to help you build a website quickly and have more flexibility while doing so.
– Minimal homepage. Edificio's homepage gives you enough room to share how your company operates daily while simultaneously giving you space to promote your best work. With Edifcio's homepage, there is no way that clients won't be familiar with your work ethic and thoroughness.
– Smooth About page. This page allows your site visitors to get to know you better. The page empowers you to go in-depth about your company and to share your own (and your teammates') professional journey.
– Clean Case study page. In case you want to share more about a particular project, we decided to add the Case study page. The page's design will wow you: it has enough room to fit ALL your high-resolution images.
– Elegant Journal page. This page is there to help you share thoughts on industry topics, break architectural taboos or write about any topic that makes you want to pour your heart out.
– Sleek Book a call page. Instead of naming this page 'Contact', we wanted it to be more inviting, so that potential clients can get in touch with you ASAP. With just one click on the button, clients can reach you.
If describing some of Edificio's features didn't really create an image in your head of how the theme looks and performs, we suggest you check out Edificio's demo. It will show you just how smooth and silky Edificio feels.
How can I get Edificio?
You can purchase Edificio as a theme separately or choose the "Hosting included" option, which provides you with both the theme and Themes Kingdom hosting. The good thing about the "Hosting included" option is that you can test the theme and site hosting for 14 days; no payment needed.
To celebrate the launch of this beautiful theme, we decided to give you a special offer. You can get Edificio 50% off if you use the code EDIFICIO50. The only catch is that the code is valid for three days until July 28, 2022. Click the button below to add this new theme to your cart!