So, you want to build a website quickly.
If you have been googling how to do so, you already know you have two options: to choose a drag-n-drop website builder or a Content Management System (CMS).
A website builder is a program, or a tool, that helps you create and design a website. The way it works is that you choose a template and use the tool you customize to create a site. A Content Management System is software that helps you do exactly the same thing一build a website一but the entire process is much more convenient for you, the user. You can add, remove, or edit website content "in the background", without worrying that it will automatically change your website's appearance. You also have a lot more access to the website's functionalities and data.
According to WebsiteBuilderExpert, the best website builder is Wix, while the most popular CMS is WordPress (with a market share of 43%). To help you create a website as fast as possible, we will leave all the other website builders on the side and focus on Wix and WordPress.
So, on the one hand, there is Wix, a builder whose unstoppable marketing efforts made sure the company rose to the top (featuring A-list celebrities in advertisements also helped). Wix's drag-and-drop method of building a website makes the tool so attractive.
On the other hand, there is WordPress, which has always been linked with blogging. Back in the day, it was a go-to blogging platform for creative writers who simply wanted to write without worrying about the website's looks or code. Nowadays, it's popular in the development communities, as many professional developers choose this platform to build sites for clients.
To help you choose between the two, we will cover everything related to WordPress vs. Wix; you will get a complete breakdown to help you find the right solution for website building.
Note: There is also WordPress.com. In this article, we will solely focus on the open-source version一WordPress.org. To learn more about the differences between these two, click here.
Disclaimer: Themes Kingdom team is not affiliated with any of the mentioned apps, plugins, or tools, nor do we earn a commission if you purchase any of the tools through referral links in this article. We merely wanted to name some services that can help you create a website.
The main difference between WordPress and Wix
The main difference between these two is in the technical approach.
WordPress is an open-source software you need to download to start building a website. Being open-source software means that developers can contribute to its source code, improving it and updating its features. Also, WordPress is not quite a one-and-done solution: once you install WP, you will need to find a hosting provider, install WP on a web server and purchase a domain name.
Wix is an on-the-go builder that allows you to create a website in minutes. It has its own editor that uses a drag-and-drop method to arrange and rearrange website elements.
Now, the funny thing about these two is that WordPress and Wix are slowly moving into each other's territory. Thanks to the Gutenberg block editor, WordPress has provided a quicker website creation process; WP now uses blocks you can rearrange like LEGOs to design a website, which resembles the drag-and-drop builder Wix uses. Wix introduced Editor X and Wix Velo, tools designed to help you build professional web apps. These two tools are combinations of drag and drop builder, JavaScript and CSS.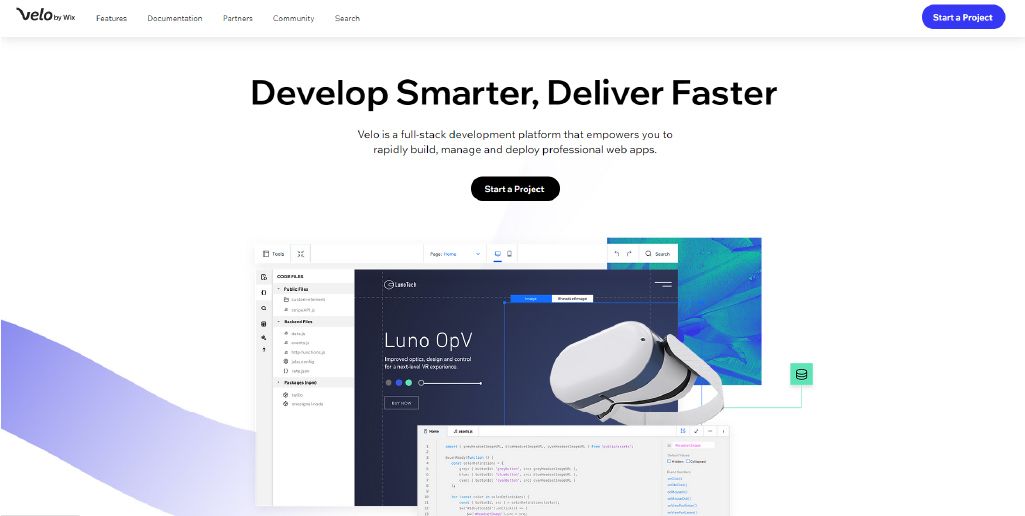 But no matter the case, both WordPress and Wix stick to their technical differences. WordPress is a bit more complex to use, while Wix has always been portrayed as a quick solution for website building that creates good results.
So, if you are wondering which one you should choose and how they compare to one another, we will score these tools within six categories:
Ease of use,
Design,
SEO,
Support and communities,
Tools and
Prices.
Let's compare!
Ease of use
When it comes to ease of use, WordPress is not the easiest builder. As mentioned above, WordPress requires you to install it, just like you would install any other software. The installation itself is pretty quick, but there are more steps you need to complete in order to be able to create a website: you need to find a WP theme, a hosting provider, and purchase a domain name.
Note: The good news is that some hosting providers, like DreamHost, offer a one-click WordPress installation within their panel. If you choose WP to build your website, search for this option, as it can make your life a lot easier.

---
If you don't want to bother researching all hosting providers that support WordPress, check out Themes Kingdom hosting. Within our hosting plans, you get a Themes Kingdom WordPress theme of your choice, an SSL, premium support and personal, and commercial licenses. The Starter plan allows you to get 5,000 monthly visits, the Growth plan 25,000 visits, and the Power plan allows your website to have 100,000 monthly visits.
---
Wix is one of the easiest website builders to use, hence why it's so popular. You don't have to install any software, hosting is taken care of by Wix.com, and designing a website is performed in your browser. This builder is famous for its drag-and-drop method, so it's pretty intuitive to arrange website elements and create pages. It will take you only a few minutes to get the first version of your website. But, there's a catch. You will be limited in your choices and may be unable to design the website just how you want it.
So, regarding ease of use, Wix takes the win.
WordPress vs. Wix – 0:1
Design
Before 2018, WordPress was a tool that could help you build a website in a few hours, and it was recommended that you are at least familiar with HTML and CSS. Since December 2018, when WP first introduced Gutenberg, the games have changed.
When Gutenberg, WordPress's block editor, first appeared, it was an editor that superseded the old WYSIWYG editor (an acronym for 'what you see is what you get'). The older, Classic editor was revolutionary in its days, providing fields for editing content within a single area. But, WordPress developers agreed that WP has to keep up with the trends and be a bit closer to the website builders when it comes to design. That's why they created Gutenberg, an editor that uses blocks, units in which you can add all kinds of media with a drag and drop method. A block can be regular text, an image, a video, a button, a widget, a table, etc.
Now, Gutenberg is so much more than just an editor一it's a full-blown website editor that you can use to create posts and pages. This means that WordPress users can now edit any section of the website without needing to go through the code or use plugins.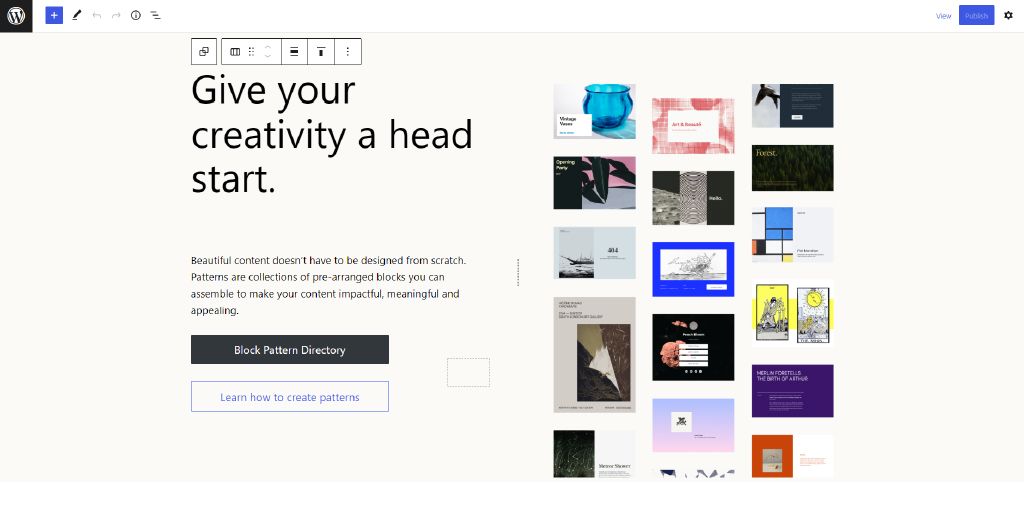 Since it's not enough to just install WordPress to create a website, we also have to mention WordPress templates you need to use to develop a site一WordPress themes. There are thousands of free and premium WordPress themes available, and we suggest you search for a reliable theme maker to get a well-coded, reliable, and secure theme. Also, if you are on a time limit and have a tight budget, be sure to check out themes published in the official WordPress theme directory.
Note: Before choosing a theme, investigate the theme creator. Check their social media reviews and comments, website comments and reviews on Google. Click on the button often referred to as 'theme demo'. A demo of a theme should portray how a theme looks and performs. By viewing a theme's demo, you can get the idea of how the theme works and which parts of it you would change.
Wix has a template library of over 500 templates, all placed in several categories: online store, portfolio, blog, events, restaurants, etc. To create a website with Wix, all you need to do is choose a template, use the drag and drop method to customize it (to an extent), take care of the SEO part of the website and publish it.
When choosing the winner for this category, we have to go with WordPress. Why? Because WordPress's interface is now easier than ever to use and offers you many possibilities and customization options.
WordPress vs. Wix – 1:1
SEO
When it comes to SEO, the question is whether you can create a website that will be ranked in Google searches using WordPress and Wix.
Let's first discuss WordPress SEO.
WordPress is SEO-friendly, but we suggest you use a plugin to take it to the next level and modify multiple SEO elements and parameters. If you type in the Google search bar "wordpress seo", the first search result that will pop up is Yoast, the number one SEO plugin for WP. There is also an All-In-One SEO Pack, which is a tool that guides you towards making your site more approachable to Google.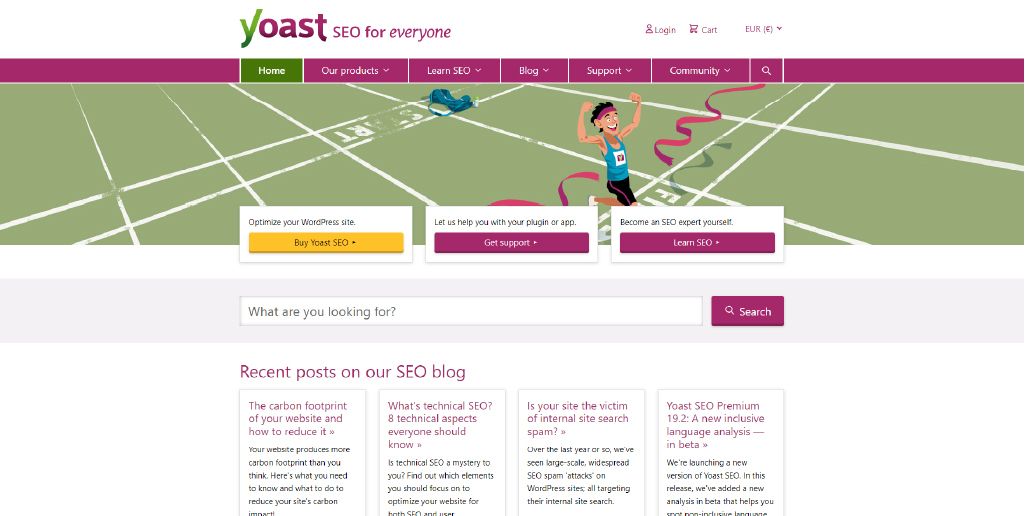 Wix does SEO well for a website builder一it allows you to change page titles, headings, alt attributes, etc. However, there are four significant problems with Wix SEO:
Googlebot has a hard time indexing images placed on a Wix website, as Wix gives website images long, cryptic names.
Your website may not be appropriately indexed by Google, as you cannot customize the entire blog post URLs, just sections of it.
Wix doesn't allow you to go into the depths of technical SEO, as you don't have access to sitemaps and canonical tags.
Your website may not be as speedy as Google requires it to be一Wix websites tend to load slowish, thanks to its architecture.
To help your website rank higher, Wix introduced Wix SEO Wiz, a tool that gives Wix users advice within tutorials on how they can get ranked. According to Wix, if you want to get ranked on Google, all you need to do is complete a checklist of SEO tips and tricks and your website will have better chances of being ranked.
Regarding the score, we have to give this one to WordPress. For a website builder, Wix has some impressive ways to help you get ranked, but it can't beat CMS's SEO potential.
WordPress vs. Wix – 2:1
Support and communities
The question of support is interesting to answer.
WordPress doesn't have official support agents you can reach out to when you bump into an issue on your website. What it does have is a well-developed community of thousands of developers. We advise you to check out the official WordPress.org Support, as it contains a lot of resources that can help you build your website. Also, WordPress has many 'unofficial' communities you can turn to for help, such as Dev.to WordPress community. But, before you reach out to the devs, we recommend you check out WordPress tutorials. There are thousands of tutorials available from respected resources that can help you get started with WP. A good place to start is WPBeginner tutorials.
Note: If you choose one of the hosting companies that is specialized in WordPress, like SiteGround or Kinsta, you can reach out to their support to help with your WP issue, even if you don't have a problem with your hosting account. Just know that the cheaper the plan you use, the less support you will receive.
Note: If you have purchased a WordPress theme from a reliable source, the theme maker in question should provide you with support. For example, if you have been using a Themes Kingdom theme, you can always reach out to our support team to give you a hand.
Wix, unlike WordPress, offers phone support, and live chat and has a whole Help Center you can turn to for help. In the center, you can find Wix articles that can help you get started with creating a website. For the very technical questions, we recommend you contact support.
The score on this one? It's a tie. WordPress doesn't have official support but has so many communities you can turn to, while Wix has good support, followed by forums and tutorials.
WordPress vs. Wix – 3:2
Tools (plugins and apps)
If you have read anything about WordPress, you know that it is well-known for its free and premium plugins; there is a plugin for any functionality you want to add to your website.
The most famous plugin is WooCommerce, an e-commerce platform built on WP, which can help you quickly build an online store. But there are many more. If you want to see what type of tools and extensions you can add to a WP site, check out the official plugin directory on WordPress.org. Currently, there are over 59,000 free plugins available in the directory. It's worth mentioning that all the plugins in the directory went through a quick assessment by the WP developers; you can click the Publish button, and the plugin will be posted. A minimum of standard plugin developers must comply with when creating and uploading a plugin. You can read more on this in the Detailed Plugin Guidelines.
---
Did you know that our Bonum WordPress theme is the first block-based theme published on WooCommerce.com? This means that Bonum is the first e-commerce theme built entirely on the Gutenberg editor that deserved a spot on the WooCommerce platform. You can read more about it here.
---
When it comes to plugin installation, setup, and update, you will need some technical knowledge, but nothing too heavy. The whole process of plugin installation is fairly easy and intuitive.
When it comes to Wix, this website builder has its Tools and Features, and there is also an App Market, where you can find hundreds of free and paid apps that can help you expand your website's functionality. The apps are created either by Wix developers or unofficial developers. So, for example, there are 12 tools you can use to analyze traffic, 27 apps to help you collect leads, and so on.
The verdict? Wix apps may be easier to use and set up but are limited compared to the WP plugins.
Current score: WordPress vs. Wix – 4:2
Pricing
Let's first discuss WordPress pricing.
Table 1 – An overview of the basic WordPress features and functionalities

Note: The functionalities listed in the table are basic WordPress features you can get once you download WP and find a suitable theme to develop your website. Keep in mind that you can expand these functionalities and get social media and SEO tools, professional email, automated site backups, and many more if you opt for free and paid plugins.
WordPress is technically free. But if you want to use WordPress to build a website, you'll come across costs related to the domain name, hosting, WordPress themes, and plugins. According to the calculation, you have to invest about $100 to build a site with WP. The cost of using WordPress can go up if you choose to use a premium plugin. For all the features you get with WP, $100 to build a website seems like a bargain.
Wix has Website plans and Business and eCommerce plans. Website plans are great if you want to build a professional website, and Business ones are if you want to accept payments on your website. Here's a brief overview of the plans.
Website plans:
Connect domain ($4.50/month)
Combo ($8.50/month)
Unlimited ($12.50/month)
VIP ($24.50/month)
Business and eCommerce plans:
Business Basic ($17/month)
Business Unlimited ($25/month)
Business VIP ($35/month)
The plans include several features, plus web hosting, which is reasonably cheap. However, we have to mention that if you compare Wix to other website builders (not CMSs!), it's definitely not the cheapest one. According to WebsiteBuilderExpert, Weebly takes the win for small business websites, Square Online is the most cost-effective alternative for online stores, Squarespace is the cheapest option for portfolio websites, and WordPress.com is the best option for bloggers.
So, who wins pricing? We would give this one to WordPress. WP has cheap hosting options, and you don't have to hire a developer to have a reliable website. Using Wix can save time, but in the long run, you won't be able to focus on the full advantage of having a website一your access to the website is pretty limited.
WordPress vs. Wix – 5:2
Additional information for bloggers
Before we check the final WordPress vs. Wix score and give you our opinion on which tool you should use, there is one more thing we need to highlight: a tip for all bloggers.
Many people believe that Wix is the platform for blogging because it offers several different budget-friendly plans and can help you save time when building a website, thanks to its intuitive interface. However, we do not recommend you choose Wix if you want to develop a professional blogging career. There are two reasons why.

First, to build a blogging career, you need a solid, reliable site that will be up and running all the time. A platform that will ensure you can quickly post content and, more importantly, get ranked. For this, WordPress works the best. And second, WordPress gives you so much flexibility and customization when it comes to developing your blog, and you don't have to spend hours working on a problem and unraveling the spaghetti code; now there is no coding, everything is placed within one editor, and developing a website is faster than ever.
WordPress vs. Wix – which one should you choose?
After all the WordPress and Wix pros and cons you have read, one question remains unanswered: which one should you choose to build your website?
We say: you can never go wrong with WordPress.
People choose Wix when creating their websites, whether it's a portfolio website, blog, or online store. Even well-known brands, such as Adidas Hardware, decided to use Wix to create their site. But if you want a robust platform that will help you scale your business over the years, choose WordPress. And if you are intimidated by WordPress features and flexibility, go one step at a time一read up on how to create a WordPress website, about WP themes, and slowly catch the WP slang and be a part of the ever-growing WP community.
And don't forget: WP now offers its version of the drag-n-drop method, meaning that you have one interface in which you can build a website. Plus, editing small details on your website won't be as tricky as you think一WordPress allows you to create a pixel-perfect in just a few steps, without coding.
Now that you know all this, are you ready to choose? What is it going to be, WordPress vs. Wix? Let us know in the comments.