We love making great premium WordPress themes. It's what we know and do best. But in order for us to keep doing what we're really good at, we're going to have to make a few changes.
Here's the short version of what's going to happen:
1) We're raising prices on all themes.
Don't worry, they're going to remain affordable. Prices will jump: $49 for blog themes, $59 portfolio themes, and $69 for WooCommerce compatible themes. Read below to find out why.
2) We're raising ANNUAL membership fees
We looked around for the average prices in the industry and realised our prices did not reflect the quality of work we do. Annual membership jumps to $89. If you bought an annual membership before January 2017, then the price will NOT go up for you. You'll be able to renew your annual membership with the old, cheaper price. Lifetime Membership stays the same price.
3) We're pulling the plug on many old themes.
Starting 1 January 2017, we will stop selling some of our themes. Not enough folks bought our old themes. The majority of sales, around 95% comes from the latest few themes we made. If you use any of our old themes you will still have support until 1 January 2018. The full list of themes getting the chop is below.
4) You get 1 FREE NEW theme*
*You can get 1 new theme for free only if you bought an old one. See a list of eligible old themes below.
5) All remaining themes get full WooCommerce compatibility
Yup. You'll be able to set up shop using our themes in the next few months.
6) Visual Composers are raging dumpster fires
This isn't a change. It's more of our opinion and I'll explain below.
WHY we're doing this
In short, because: design & code quality.
We ran a survey recently and asked a few questions. The most important two being: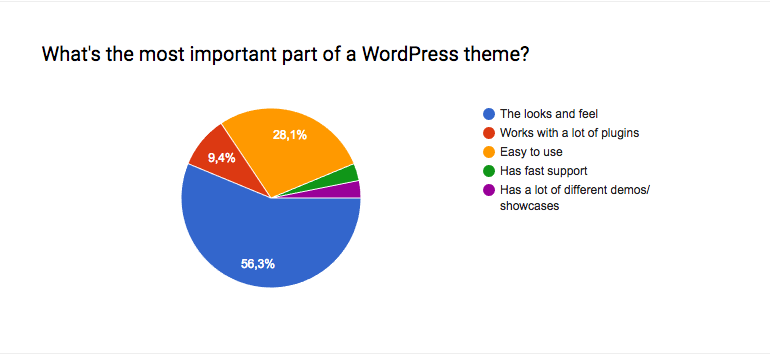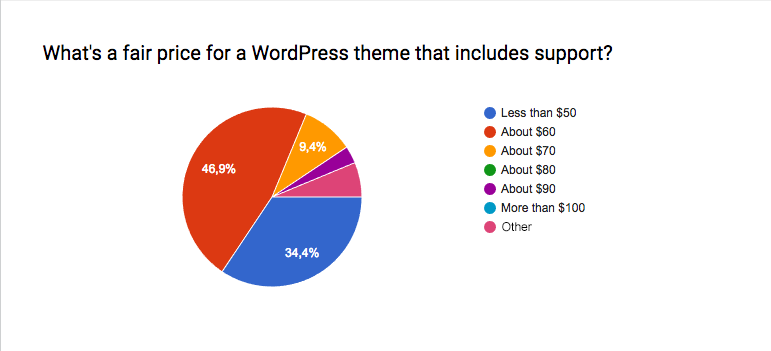 As you can see, the majority of our customers prefer themes that have great design and code quality (looks and feel). The majority of which prefers good themes to be priced around $60.
Design
Previously in Themes Kingdom: we ran a survey asking all our loyal customers what they thought about us. The results were sobering.
We've realised most of our customers cared strongly about the way a theme looked and how it worked behind the scenes. Turns out these two were the decisive factor when buying a theme.
Our design has greatly improved over the years. And even that's an understatement. You have our designing team Marko and Željko to thank for that. If you compare a theme we made 5 years ago to one we made this year, the difference is staggering.
You know what hasn't changed? The price.
We make class-leading theme designs, but we charge an amateur/hobby price for them.
Seriously, take a look at most themes in today's market and you'll see it's hard to find themes that are as elegant and beautiful.
Code Quality
Over the years, our developers made hundreds of themes. They learned a lot. So much, in fact, that all the code they write is now reviewed and approved by leading WordPress developers.
Yup, the people who make WordPress take a long look at our code and approve it. And this happens for every theme we make.
The reason we make two separate themes of the same kind instead of just one is code. If you would like a blog theme without the e-shop, you can buy it. The blog theme has less code than an e-shop themes, so it makes it more affordable for you. If you absolutely need an e-shop theme then don't worry. Every shop theme takes a blog theme and adds an eshop to it. You get all the features of a blog theme with an added WooCommerce shop.
Quality code means your theme loads faster, performs better, and is more secure from hacks.
Because of the much improved design, and greatly improved code quality, we're raising the price of our themes and annual membership. Lifetime Membership is NOT changed. If you bought an annual membership before January 2017, then the price will NOT go up for you. You'll be able to renew your annual membership with the old, cheaper price.
Why we're deleting old themes
While we're on the subject of code quality, you know what code hasn't been touched in a while? Our old themes. It's not that we don't want to update them, it's just that it's hard to support so many new AND old themes. We don't have the manpower.
The old themes saw a considerable drop in sales. Keeping them up to date takes time and resources, and we just can't justify spending so much of it on themes not enough people would buy anyway.
All our code for new themes like Huntt, Aperitive, Goodz and the rest is reviewed by WordPress' lead developers. The old themes have old code that we just can't support anymore – and it's too expensive for us to write from scratch again. The design of our old themes is also staggeringly out of date.
Which themes are staying?
All new themes are staying:
Eris
Ippo
Goodz Magazine
Goodz Shop
Huntt
Solar
Aperitive
Veni
Eveny
These themes are best-sellers and make up 95% of our earnings each month. Thanks to the kind folks who buy them, we can keep on doing what we love.
List of old themes
These themes will no longer be supported in any way. No updates. No development. No help. And we're deleting them from Themes Kingdom:
Spooner
Section
Photex
Eventor
Immensely
Charity+
Cosily
Legalized
BeautyPress
Novelti
Exclusy
Bloggap
Medicate
Dreamy
Lexiity*
InCare
Channel66
Radioos
Seekr
Exhibit
Elevation
Magma
Invo
Momentum*
Invisi*
Widely*
*This is a free theme and isn't eligible for an exchange for a new theme.
You can get 1 free new theme in exchange for an old one.
What about support?
Old themes will still get support until January 2018.
How to get 1 free new theme
If you bought an old (unsupported) theme, you can exchange it for a new (supported) one.
1) Sign in
2) Write a support ticket. Tell us which 1 new theme you'd like AND include your email address.
All remaining themes get WooCommerce
Yes: the best-selling themes will soon receive an update with full WooCommerce compatibility! The first theme with WooCommerce support will be Ippo Shop as well as Hunt Shop. Both are coming really soon.
We began adding WooCommerce compatibility to our themes because it was the #1 most requested feature. We're really grateful for all your amazing feedback and can't wait to get these ecommerce themes in your hands.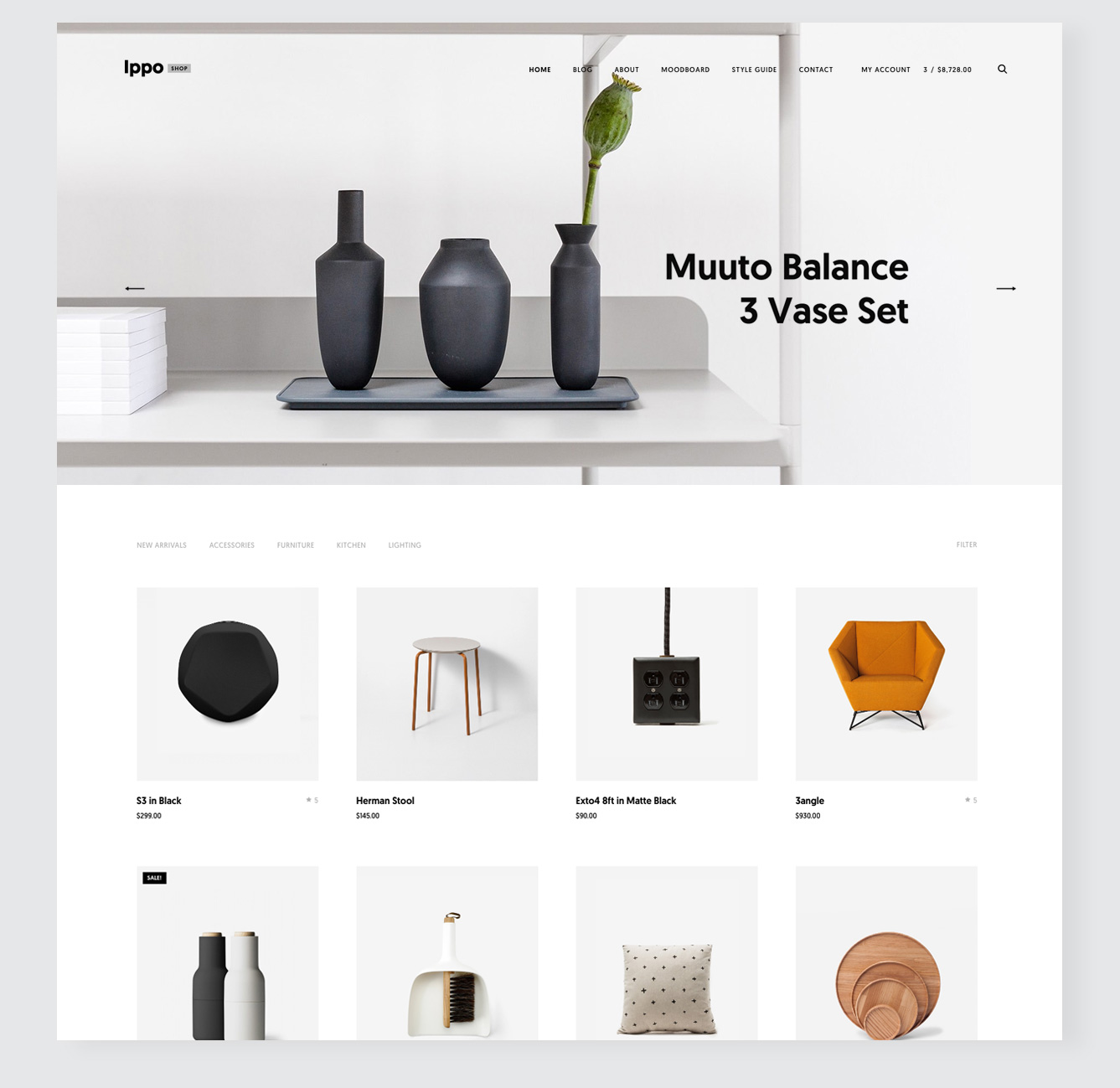 Less choices, more focus
When you're in the supermarket, and you're standing in front of 32 different ketchups, how do you decide which one to buy?
You don't. You're filled with a swollen feeling of confusion and regret. Scientist call this "Analysis paralysis." From Wikipedia:
"Analysis paralysis or paralysis by analysis is the state of over-analysing (or over-thinking) a situation so that a decision or action is never taken, in effect paralysing the outcome.
A decision can be treated as over-complicated, with too many detailed options, so that a choice is never made, rather than try something and change if a major problem arises."
That's exactly why those $30 themes that have 756 options don't work. They're confusing. They're messy.
"Easy to use" DOES NOT MEAN "has hundreds of options."
Our secret sauce has always been the common sense to say NO to gimmicks. And when you see a theme with 1000+ options, trust us: it's all a marketing gimmick.
One theme cannot possibly contain thousands of themes in itself and not have its code/design explode.
We are going to create more demos for our remaining themes. These demos will showcase how our themes can be customized to look and behave differently for a variety of purposes – while still keeping the spirit of the theme intact. You can find these demos in the demo archive (available 1 January 2017).
Visual composers are raging dumpster fires
We also discourage people from using Visual Composers, because they are one of the biggest problematic tradeoffs in the WordPress ecosystem. They seem easy. You use it to design your page visually instead of trying to understand code. But once you use a visual composer you have to use it on every other theme for the rest of your life. Because if you turn it off, the way you made your page look is GONE.
The code Visual Composers produce is simply not good. It's markup that makes no sense to anything, often including your browser. They were made as a one-size-fits-all solution, which is not good.
And they add a ton of code that slows down your site. Folks don't have patience for a site to load longer than 5 seconds.
Think of it this way: if a theme developer gives up, you get a new theme. WordPress will transfer your content beautifully to a new theme – neat and tidy. What will you do once the developer of your fave visual composer gives up? You're stuck.
Summing it all up
As you can tell we're pretty opinionated about what we do. Premium WordPress themes should be beautiful, elegant, fast, and secure. And we love to make them that way.
But it's become a little difficult for us to do it, so we had to make some tough decisions:
– increase theme and annual membership prices
– keep lifetime membership at the same price
– delete old themes that aren't up to snuff
– add WooCommerce compatibility
– trash talk visual composers and hacks
We honestly hope this transition will be as smooth as possible for everyone – including you! Because in the end…
These changes will help us create themes you'll love to use as much as we loved making them.
Prices go 50% up – discounts go 50% down:
We're running a huge birthday sale until 31 DECEMBER – Saturday!
Use this code at checkout to knock 50% off your order:
HAPPY
Happy holidays!