It's here! It's finally here! We are proud to present to you the long-awaited, stunning premium WordPress theme, Bottega, that will shine the right light on all your work. This superb blog/portfolio theme will have all of you bloggers, artists, agencies and studios, swept off your feet. Trust us.
Why Bottega?
Well, when we were talking about releasing a new theme, there is one thing all our knights agreed on 一 it's time to release another theme worthy of the Masters that create modern-day art. A theme for designers, studios, agencies, bloggers. We felt like it was time to give you a way to properly display all your work and show how you make the world a more beautiful place.

Creating Bottega seemed like the next logical move.

Why did we name it Bottega, you might be wondering? Well, we have Marko, our imaginative theme designer, to thank for.

The term bottega (as you might have read in the article in which we announced Bottega) is an Italian word used for a studio that gathers master artists and their apprentices. In bottega, apprentices are given the opportunity to learn from the Master by creating art and participating in the work. And that's where the inspiration came from.

We wanted to give you, the artist, a chance to teach and show others how it's done by offering you a clean way to display all your master creations.
What's so special about Bottega?
A lot of things. Some of them being:

– A full-screen slider on the homepage. We wanted to make sure your work catches the eye of the viewer.
– An out-of-the-box dropdown portfolio list. As you will have a chance to see, with Bottega, all your masterpieces are just a hover away.
– Projects are center-aligned with a proximity-activated arrow. All the projects are in the center of the screen, with the project information carefully tucked away in a link at the bottom left.
– Easy customization. Whether you want to change the background color, images or fonts, Bottega will allow you to customize it all, with ease and grace.
– Bottega comes with a Blog. Just in case you would want to share your thoughts and experiences, not only by showing off your work, you have the Blog section to help you out.

Don't believe us that a WordPress theme can be this awesome? Check out the demo and see it for yourself!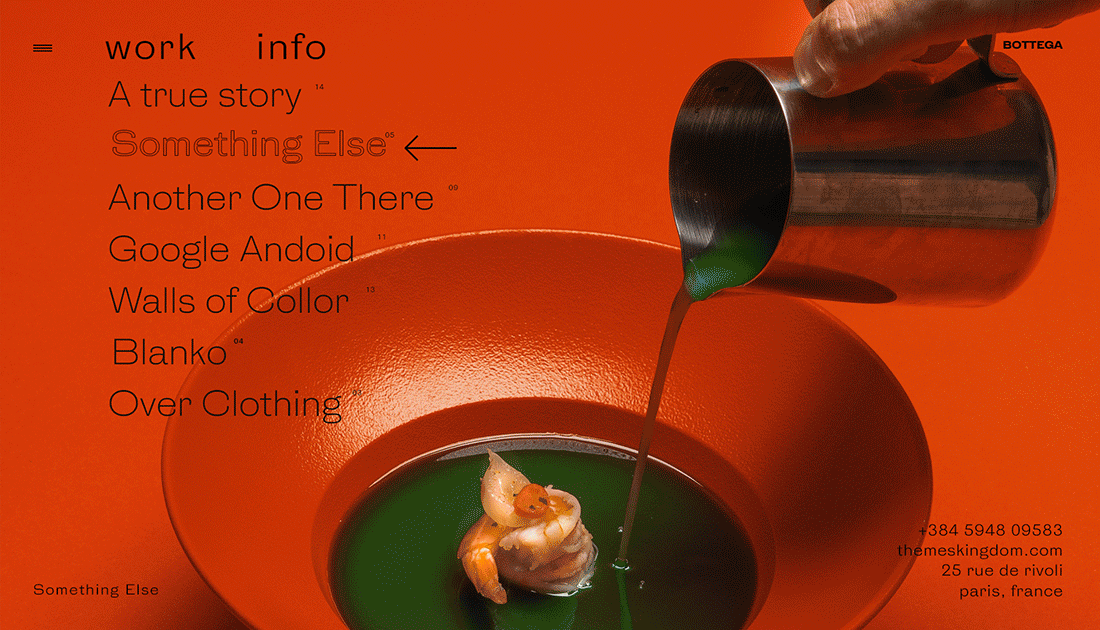 Want this theme?
Great! Bottega is available as a single purchase, or as part of our annual and lifetime subscriptions. There is also a 14-day money-back guarantee, just in case.

If you want to dance, all you need to do is press play. So, press the button below and start dancing!