Another day, another super sleek WordPress theme for smaller and larger shops. You already know the drill.
Today, it's time you meet Noctua, an out-of-this-world, stunning e-commerce theme with a demo that is the epitome of elegance and minimalism.
Here's everything you need to know about this theme.
Why did we name the theme Noctua?
Well, at first, we couldn't come up with a name. We had a hard time finding a name suitable for such elegance and sleekness that doesn't sound snobbish. But, upon serious contemplation, we decided to name it Noctua, after the little owl, Athene noctua, which is the symbol of the Greek goddess Athene. The owl itself represents wisdom, intelligence, communication, and, above all, strategy. And the strategy is precisely what you need to run a successful eCommerce business, isn't it?
What is unique about this theme?
Oh, there are so many features you are going to love. Some of them are: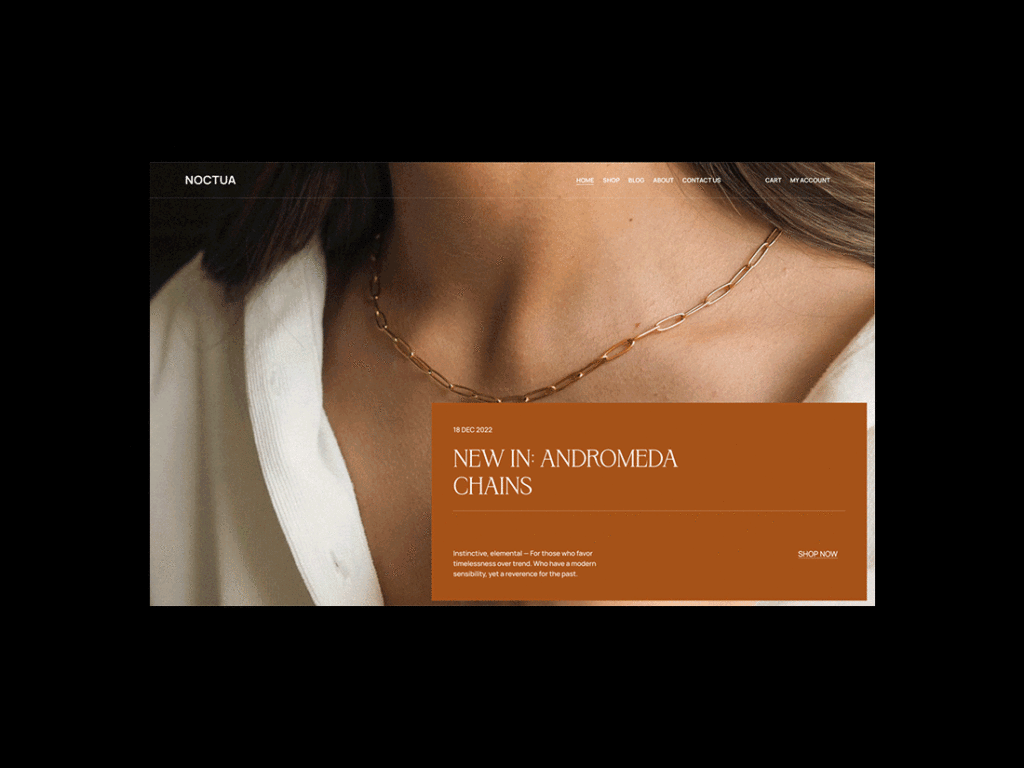 – Full Site Editing. Noctua is another FSE-ready theme that provides you with a single interface in which you can play with the global and page elements一all that within the well-known Gutenberg blocks. This feature makes building a website so much easier and more flexible.
– Stunning homepage. Noctua's homepage gives you enough space to share the company's values and goals while seamlessly offering you a section to promote your products. This theme's homepage truly has it all.
– Clutterless Shop page. This page will allow your site visitors to focus on the essential things on the website: the items. Potential customers will be amazed by the sleekness and cleanliness of the shop.
– Smooth Blog page. In case you want to share company and product updates (which we highly recommend!), there's the Blog page. The Blog page itself looks so polished and elegant.
– Clean and in-depth About page. This page gives you enough room to mention all the essential information about the company一from your humble beginnings to the moment the business blossomed.
– Sleek Contact page. The Contact page comes with just enough room to write all your contact information一you have enough space to add a call to action, email address, and your shop's social media handles.

We must admit that describing each page design doesn't really do the theme justice. We would advise you to check out Noctua's demo and see for yourself how all these pages look and perform.
How can you get Noctua?
You can purchase Noctua as a theme separately, or choose the "Hosting included" option, which provides you with both the theme and the website hosting. The good thing about the "Hosting included" option is that you can test the theme and website hosting for 14 days; no payment needed.
To celebrate the launch of Noctua, we decided to give you a special price, that is, to offer 30% of the theme's original price. So, when purchasing Noctua, be sure to use the 30OFF. The only catch is that the code is valid for three days, until June 12, 2022. So, hurry up一just click the button below and add the new theme to your cart!