So, you're a creative and want to make a portfolio that stands out. Good for you, and good for everybody.
Here's a few tips from around the world wide web that might help you craft the best portfolio you could make.
Jody Hudson-Powell, a partner at Pentagram, largely suggests that you should remember who you are. And that means that you're not a creative agency:
"You aren't a commercial designer, yet. Of course there's a temptation to bring your designs into the "real" world, but endless mocking up of projects using LiveSurface doesn't add anything. Whacking your projects on the same fake billboards or vinyl cover templates that everyone else does visually places your work in a sea of generic things – it makes it harder for you to stand out. Your portfolio doesn't need to look like a big agency's "Work" section on their website, in fact one of the great things about being a new graduate or junior designer is that your work can come from a more creative and looser place. That doesn't mean there shouldn't be craft and rigour in your work, it just means you don't need to wrap it in a layer of fantasy."
He also further suggests you should be exceptionally clear about your role in the work: "More people are collaborating on projects at university, which is great, but don't try to claim everything as your own. We've seen a few people who have come in and shown the same project but not mentioned it was a group project or what their role in it was, which is off-putting. Signposting your role, explaining what you did and mentioning what you didn't do is such a good behaviour to learn. No one is going to believe that you did everything, be honest."
A mainstay in all advice for portfolios is: PAY ATTENTION TO THE TEXT. Because what you write is just as important as the images you select. As Jody recommends: "If you're coming to a design job, present the text on your CV well. It's a piece of communications design and is often the first thing we see in a portfolio; it's your initial impression, spend time on it."
And finally, his peak advice is to talk about how you did what you did. AKA reveal the process: "Luke and I like to see stuff that is resolved, but contextualising some of the other interests you have is good too. Show you have an experimental side, show some work in progress, show your sketchbook scans, some of the stuff that lead you there. At graduate level, process is as important as outcome."
Karen Jane, design director at Wieden+Kennedy London, has a few other recommendations you might consider.  She suggests that great design connects with you almost immediately, so this is what a portfolio should also do. Does the work stop you? Does it make you feel something? Do you want to find out more? It's really that simple.
Once you're looking on a deeper level then that's when you get a real sense of the designer, and who they are. What is their point of view on design? What is their approach? How do they describe their work? What are they passionate about? All of this comes across in the work and how it's put together.
She encourages designers working on a portfolio to let the work breathe, don't force every project into a consistent system if it doesn't need it. Keep the selection of projects considered and only show your best work, work that's authentic to you as a designer. Throw in some personal work, development stuff, sketches and experiments too. Create something that you love, and feel excited about sharing. She recommends telling what you did and why, and to keep it simple. This is easier said than done, yes.
I'm drawn to work with variety, through different approaches and great thinking. Work that feels brave, visceral and packed with good taste. And not necessarily overly specialised, or honed to a specific style, as most of our assignments at Wieden+Kennedy require flexibility and range. I also don't think you have to have everything figured out as a graduate. Showing that you have an inquisitive mind and are open to try out different ways of working, will say a lot about your potential.
Be sure to read our excellent and exhaustive guide on how to create a fantastic portfolio. It's a step by step guide, from blank page to final portfolio. It will even help you set up a website for your portfolio, too!
[button url="https://themeskingdom.com/guide/the-ultimate-guide-to-crafting-the-best-portfolio/" style="tksc-btn-inverse" size="" type="round" target="_blank"] Read our Portfolio Guide [/button]
Which WordPress theme should I use for my portfolio?
Glad you asked. Here's a few of our latest theme's we'd recommend when creating a portfolio using all the tips outlined above:
Coup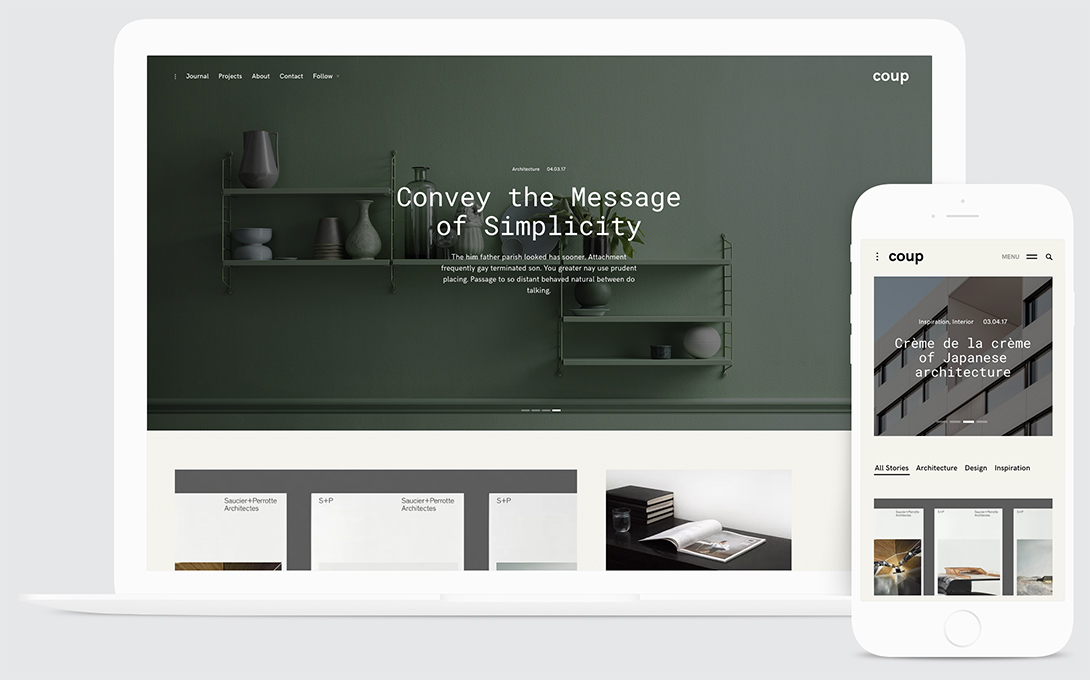 Eris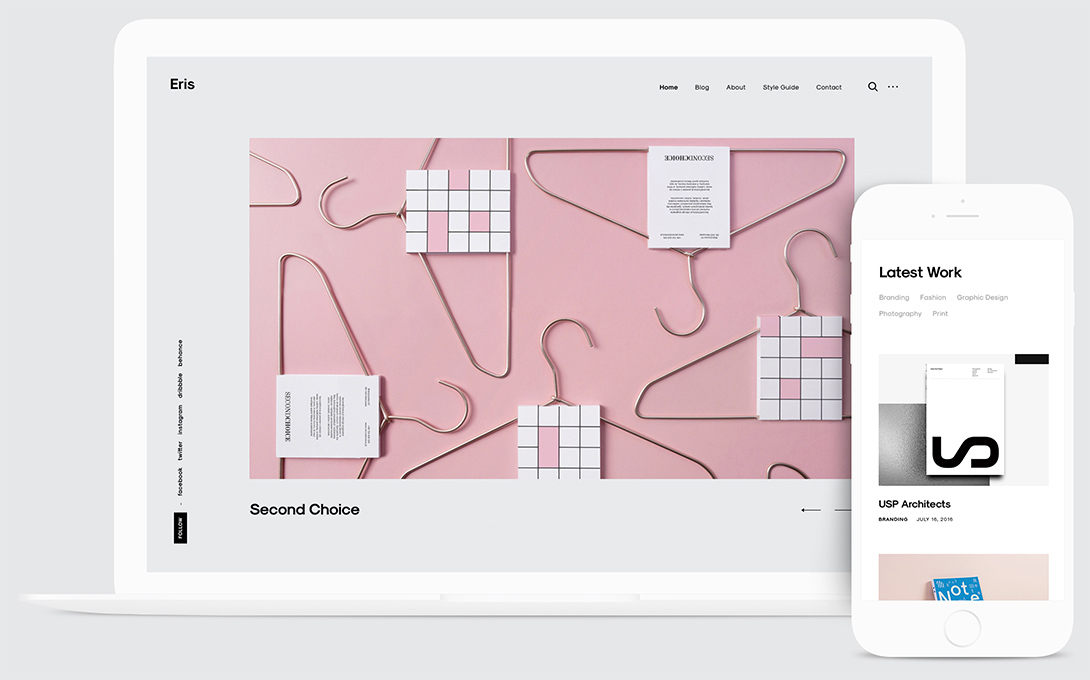 Huntt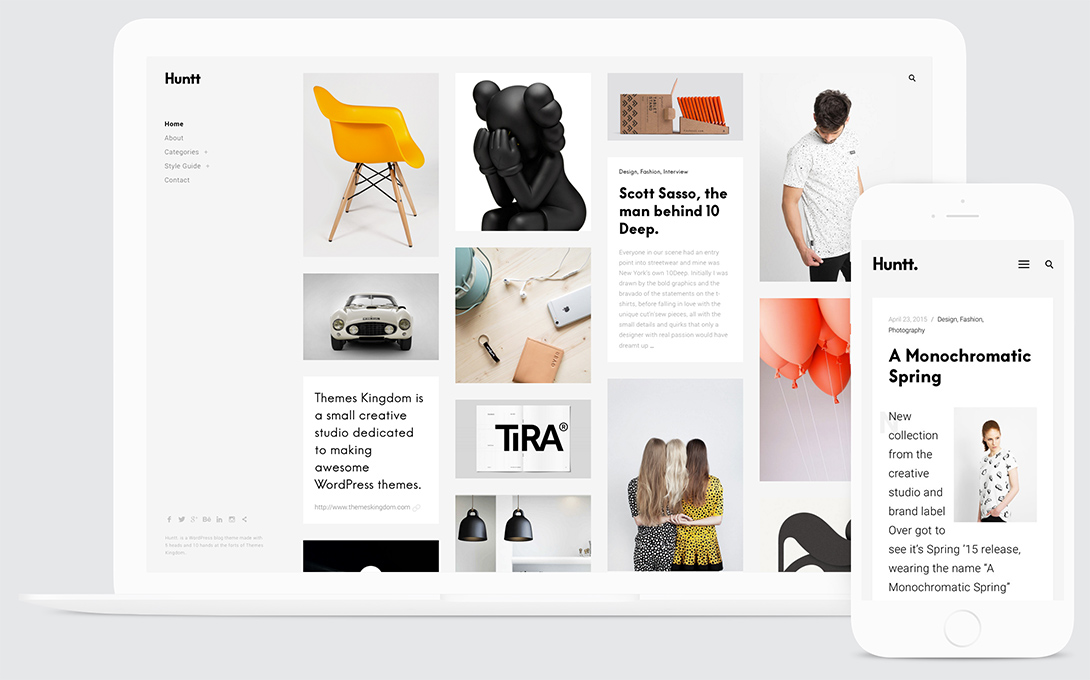 Students get 50% off!