Starting a new sushi place? Trying growth hacking techniques on an aging thousand-year-old family business?
Then you'll need a website. Anything that's not online practically doesn't exist, anyway.
Whether you're a veteran or an utter newbie, a good website can flock customers to your business – just as much a bad website can scare them away.
It's not rocket science. What you need is a blend of good info, a fast and responsive website that'll work on any device (especially on cell phones!) and an added bonus: a reservation system.
Designing your website, the easy and fast way with WordPress
WordPress is the backbone of your site, and it works like a charm on its own. It keeps everything humming nicely in the background, and organises your content and info gracefully. But what about the foreground? What about the stuff people *see* when they first open up your site?
Luckily, WordPress can be outfitted with any conceivable design. These are called themes. There are countless free ones, but take care – free themes don't have support; genuinely look cheap; anyone can easily copy your website by using the same free theme.
Invest instead in a quality theme that's above all else: responsive. Try something like the elegant Spooner or Stomaci.
What's so gorgeous about Spooner is that it offers a built-in reservation system and can be effortlessly customised: you can insert your photos, branding assets, content, info in a matter of minutes!
You can choose to post regular updates, or post relatively nothing but a barebones menu. Whichever way, your site will look effortlessly elegant.
Aperitive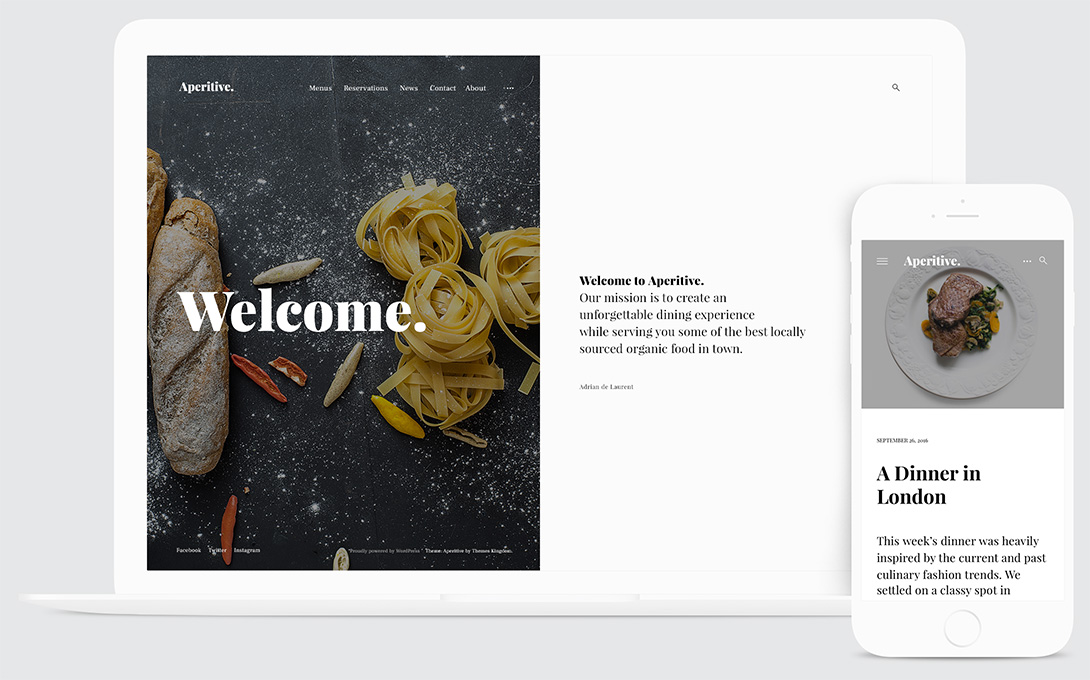 Aperitive is a theme we designed solely for restaurants. You can customize it for whatever you want, but we envisioned it as the perfect website design for a contemporary restaurant with a sophisticated menu. Aperitive works well for bars, too, with a little added customization. Try out a demo of Aperitive, or see the features it has packing – integrated menu, reservation system, and more.
I don't feel like installing WordPress on my own
No problem. We'll install, manage, backup, and protect your WordPress-powered website for you. Just $15 a month with Themes Kingdom Managed. Read why it's a great way to get started with a website.