Did you know that there are currently between 12 and 24 million online stores available? And it is expected that the number will only increase as more people start their online businesses.
Now, be honest with yourself and answer this question: are you shocked?
Are you stunned to learn that millions of online stores are competing on the market?
Are you a bit hesitant to 'join the game', fearful of the more experienced 'players' that know 'the game rules' well?
If you are, it's understandable. But you have nothing to be afraid of. In fact, we advise you to turn that fear into fuel and start working on building your eCommerce empire.
So, the first step towards moving your business online is, undoubtedly, creating a high-converting online shop that will attract your potential customers. An online shop whose design will make users stay on your site and search for your products.
How can you do so?
Well, we recommend you start by choosing the right eCommerce WordPress theme.
To help you choose the One, we decided to list the top 5 best eCommerce WordPress themes created at Themes Kingdom. Let's go through these themes!
A few words on the Themes Kingdom WordPress themes
If you are new to Themes Kingdom and our themes, there are two things you need to know about our WP theme creating process.
First, we are always keeping up with WordPress trends. All the themes we develop come with the Full Site Editing (FSE) features and support the Site Editor (popularly called block themes).
What does this mean for you, the user?
Well, we imagine you have heard of the WordPress block editor or the Gutenberg editor. The Gutenberg editor was released back in 2018, and at the time, it was an Editor that could help you create posts using 'blocks'. Blocks were (and still are) units that contain media (a text, an image, a button, etc.), which you could, with a drag-and-drop method, rearrange to create posts. Now, thanks to WP 5.9 and the Full Site Editing features, Gutenberg has completely taken over the site building process: you can edit all parts of your website within one interface, within the Editor. So, you can consider building a website as a personal LEGO project一you are placing blocks of media one on top of/next to the other to create a piece of art.
Second, four out of five themes on this list are block or FSE-ready. We wanted to show you the themes that help you create your online store as fast as possible, and block themes will make that happen.
Now that you know a thing or two about TK themes, let's go through the list of best eCommerce WordPress themes created at Themes Kingdom.
Lenis is our newest eCommerce theme, published just a day ago. We created it so you can build an online fashion store from the ground up.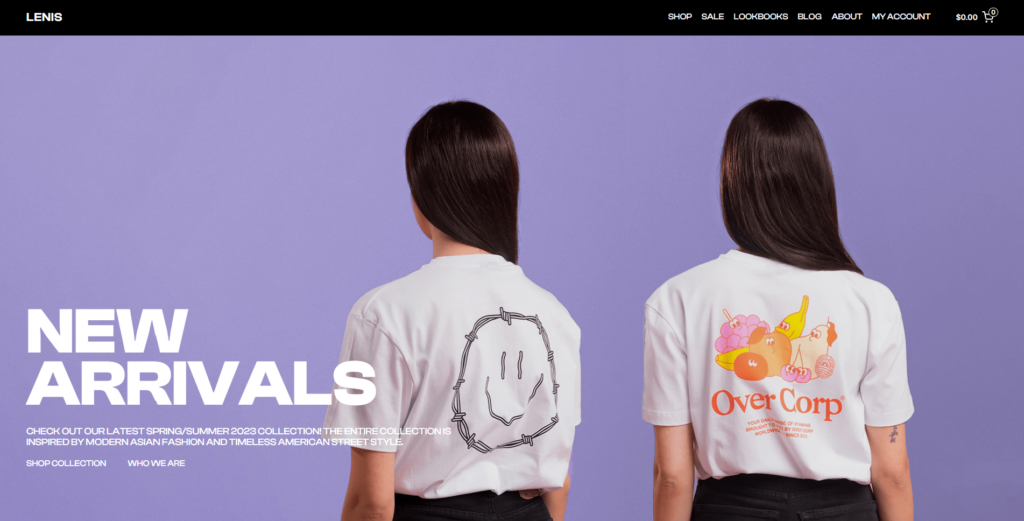 ---
Promo alert! 🛍️ To celebrate the launch of Lenis, we decided to give you a special offer. You can get Lenis 50% off if you use the code LENIS50. The code is valid until October 17, 2022.
---
The theme is minimal, edgy, and ultramodern, and the way we see it, it's perfect for streetwear brands that want to capture market share.
The theme comes with seven pages: Homepage, Shop, Sale, Lookbooks, Blog, About, and My Account.
The homepage is designed to make your brand stand out: it has enough room for you to add stunning visuals and product images that show what your brand is about and how you are different from the competition. We added the Sale and Lookbooks pages to make sure you stand out from the crowd. Thanks to these two pages, site visitors won't have to browse endlessly to see your pieces or the ones that come with a discount; they can go to these two pages and check out what they are interested in.
What is so remarkable about Lenis is that it comes with our free plugin: the Marquee Block plugin. This plugin is a free tool that adds a scrolling piece of horizontal text to your website. So, you can basically add a moving banner to your site一a banner that can display anything you want to promote.
The Noctua theme is the epitome of elegance. It is an easy-to-use block WordPress theme that is infused with all the fantastic WooCommerce features.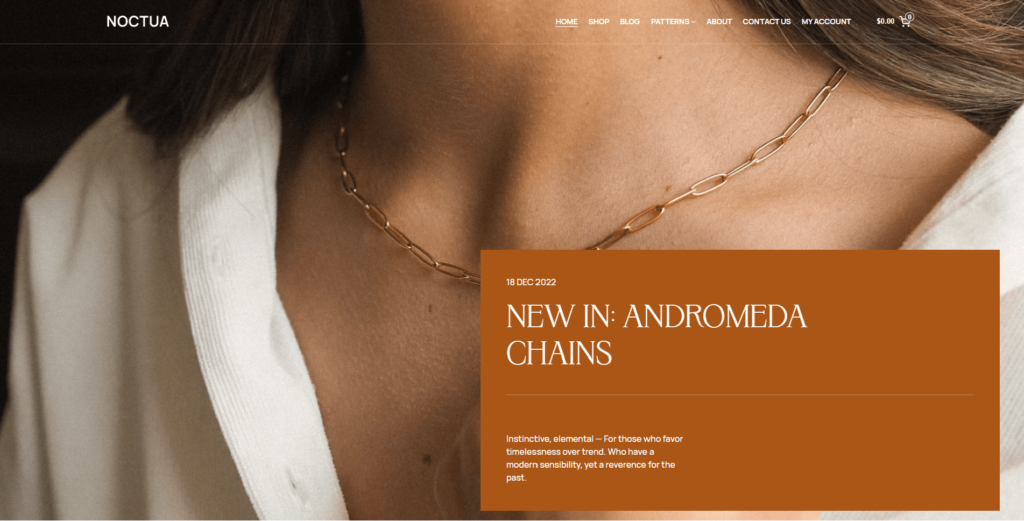 ---
Noctua is also available on WooCommerce! Click here to purchase it on WooCommerce.com.
---

The theme's homepage is designed to show off your products: it consists of multiple sections you can use to add attractive product images, plus a testimonials section that can 'seal the deal' for first-time website visitors.
The theme has several default pages: Shop, Blog, About, Contact us, and My account.
What separates Noctua from the previously created (Themes Kingdom) themes and makes it one of the best eCommerce WordPress themes are the patterns.
Patterns are pre-made collections of Gutenberg blocks created by our designers. For you, the user, this means you can use these patterns to create your website pages: you can stack the patterns onto another to make the page just how you want it.
---
If you want to learn more about patterns, be sure to check out the article on Themes Kingdom WordPress block patterns. In the post, we explained why we created patterns in the first place and why they can come in handy.
---

Noctua comes with seven categories of patterns: Text, About, Contact, Testimonials, Gallery, Header, and Call to action patterns. So, for example, if you want to customize the About us page, you can choose between several About patterns. Each of them combines beautifully paragraphs, headings, and images, so you can create the About page just how you want it.
If you want to see some of these patterns in action, be sure to check the official Noctua WordPress theme documentation.
Aspicio theme is another theme that is coupled with the Full Site Editing features.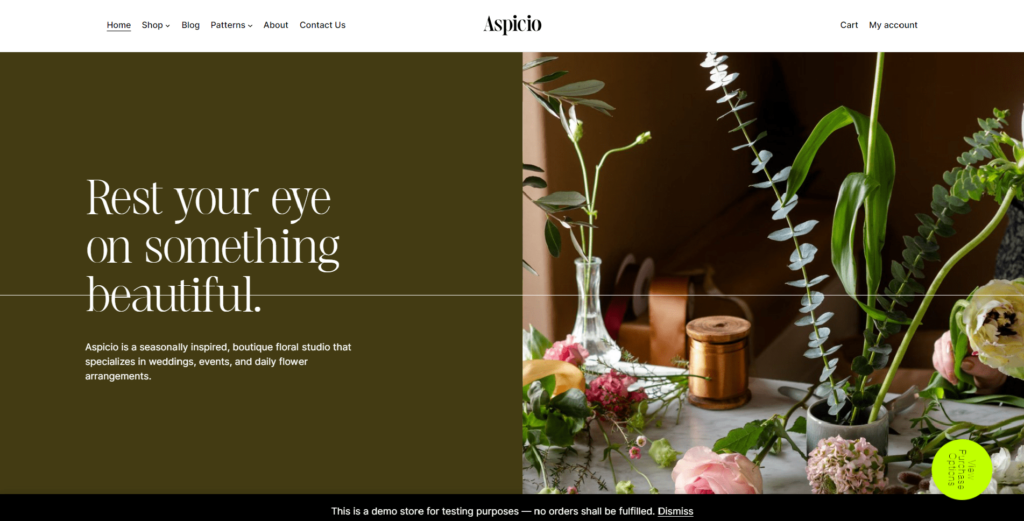 This theme is one of the best eCommerce WordPress themes because it is feature-filled but has a lightweight design. The overall feel of Aspicio is like a cold breeze on a hot summer day. It will be easy to navigate your website at first glance, minimizing the chance of a high bounce rate.
The theme comes with five main pages: Home, Shop, Blog, About, and Contact us.
The homepage is built to increase visitor engagement and conversions. The page gives several product types the spotlight, meaning you can feature the most popular/profitable products or products collected into categories.
The Shop page is created to help you show off your products: you have enough room to add stunning images of your products, followed by compelling product descriptions.
The design of the rest of the pages is minimal, elegant, and light as air一it follows the theme's style and complements it so well.
Aspicio also comes with seven categories of patterns. You can check out the patterns if you click the Aspicio theme demo.
Bonum is one of the best eCommerce WordPress themes, perfect for small online shops.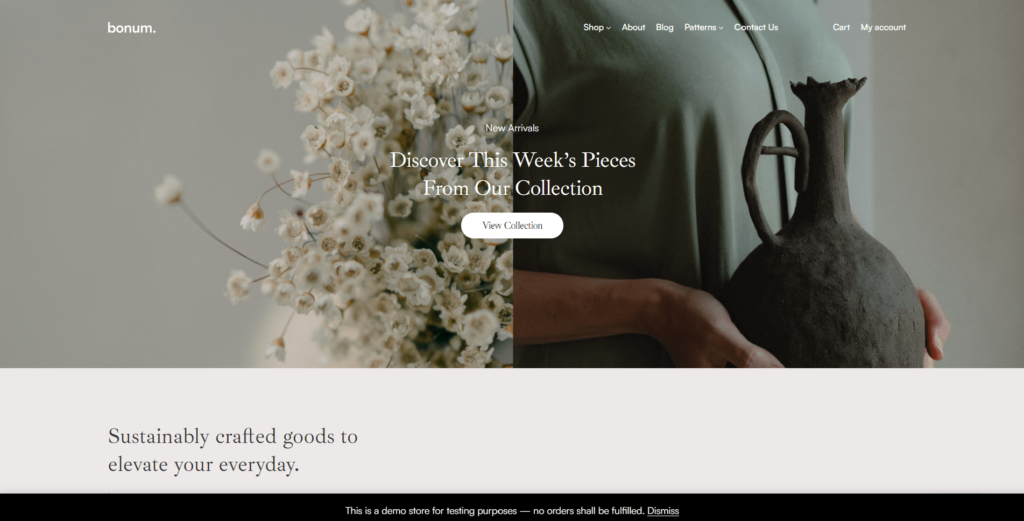 Bonum is our first theme featured on WooCommerce, and you can also purchase it there; just click here to get Bonum.
We like to refer to Bonum as the theme that brings old Themes Kingdom design with the new and improved one: the theme is minimalist and polished, just like all our 'old' themes, but comes with the Full Site Editing features and patterns that can help you create unique landing pages.
The theme comes with a standard set of pages: Shop, About, Contact, and Blog.
The Shop page is clean and simple in the best of ways: your potential customers will be able to view your product images without any distractions, as the sole focus is on the products. The single product pages have enough space for your products to shine. Other pages are designed to complement the overall vibe of your shop.
To see how Bonum looks and performs, be sure to check out the Bonum demo.
Unid is an untypical e-commerce WordPress theme. You'll see what we mean if you check the theme preview below.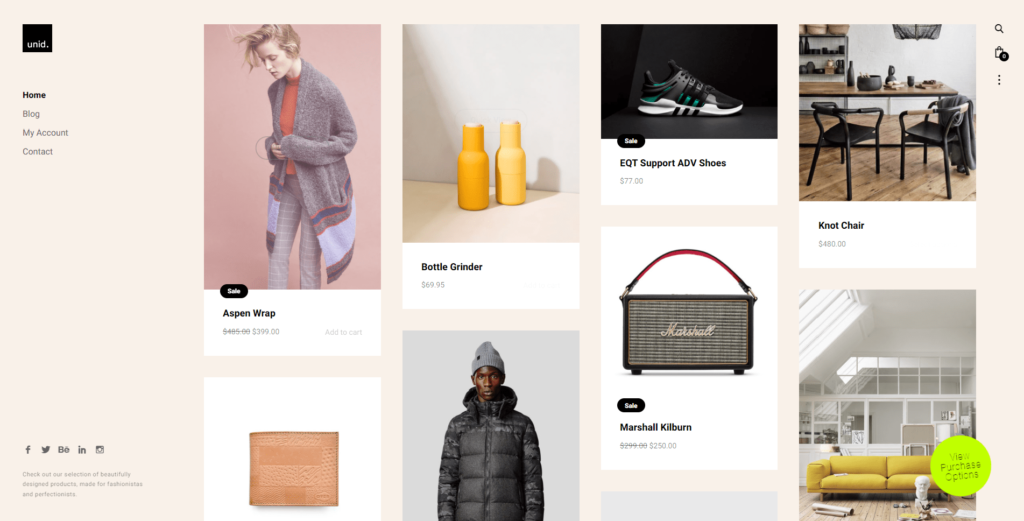 When we were creating the theme we had an idea: to create a theme designed for shops but with the look of a portfolio or a blog theme. It seemed like a crazy idea at the time, but we managed to blend the two opposite designs, and that's how Unid was born.
When you click the Unid demo, you'll see that the menu is placed on the left side of the homepage, in the form of a list. The products take up most of the homepage, and on the very right, you can see the shopping cart icon and a three-dot icon (which opens a hidden sidebar once you click on it).
The theme comes with four pages: Home, Blog, Contact, and My Account. If you are wondering where the Shop page is, it is the Homepage. 🙂
Thanks to the minimalist feel of the theme, we recommend Unid to small shop owners that are just starting their online businesses. For the ones that don't want to bother with multiple (sometimes overwhelming) eCommerce features, but are looking to have a ready, up-and-running website quickly. If you want to see how Unid, one of the best eCommerce WordPress themes works, we suggest you check out the Unid demo.
Are you ready to build your online shop?
Now that you have gone through our list of best eCommerce WordPress themes, can you choose the one theme to build your website?
Which theme from the list do you prefer the most? Are you more inclined to choose a modern, block-based theme, or are you willing to take the risk with a non-standard WP theme? Let us know in the comments.
If, for some reason, you haven't found what you are looking for, feel free to explore our collection of eCommerce WordPress themes.
And if you like reading about WordPress and its themes, don't hesitate to subscribe to the Themes Kingdom newsletter and follow us on Facebook, Instagram, and Twitter.