Inspired by the latest trends in fashion, lifestyle and blog web design, Veni is a sight to behold. Lots of active negative space helps guide eyes to your content. An asymmetric layout keeps it from looking boring. Veni is contemporary, chic, and delightful. Use it for: travel, fashion, and lifestyle blogs… or anything else you can think of! It's easy to customize!
Let's go over what Veni can do and what it looks like.
New! Slider
The slider features your article's headline, short text, and featured image. It's great for calling attention to specific articles or images you want to attract people to. We made it super easy to add your images to the slider!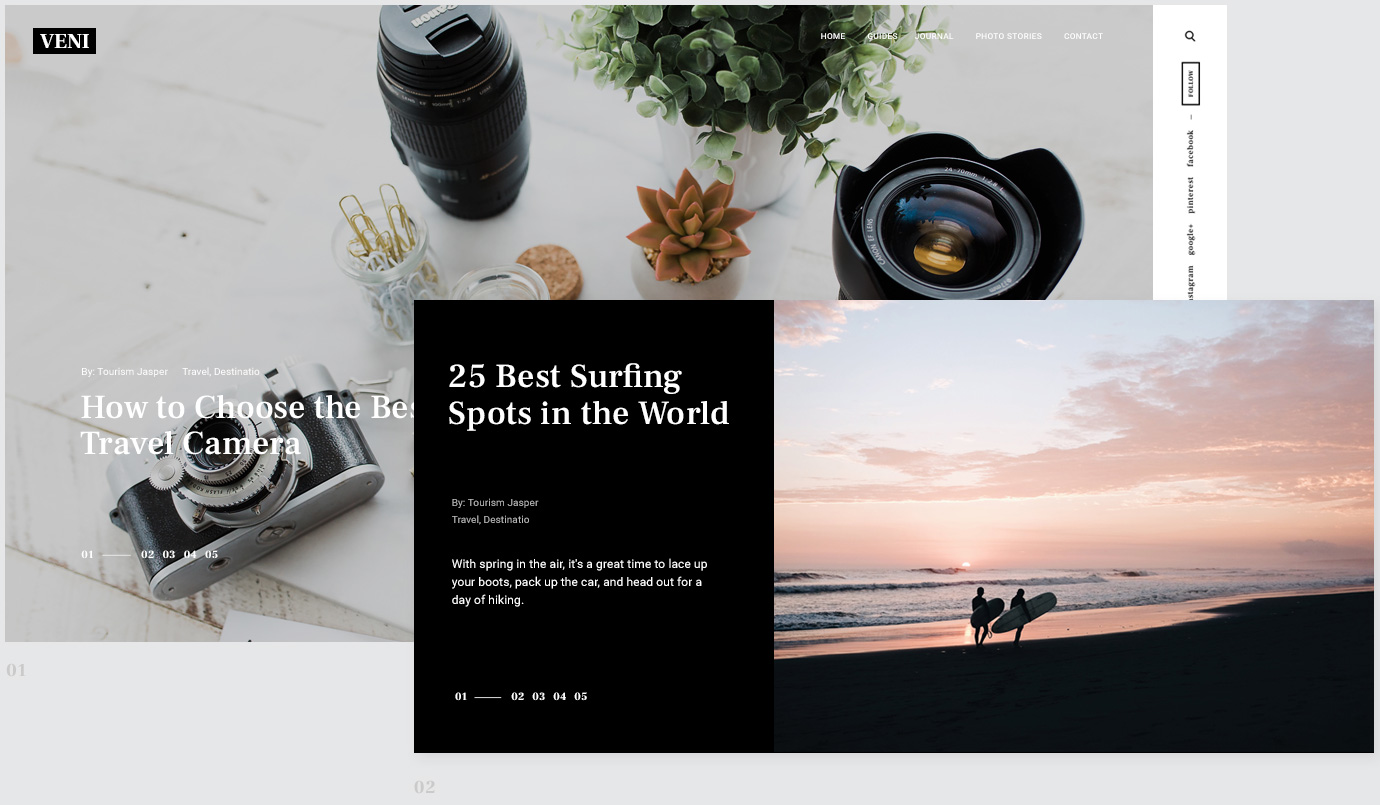 New! Featured pages
Right beneath the slider is the featured pages section. You can pick up to 3 pages to be displayed here. Veni will automatically adjust the grid and columns to fit the number of pages you picked. This is a great way to bring attention to pages that have a few key articles. For example pages with tutorials, or collections of your recent trips.
Flexible layout
The main layout of the home page comes with a few options. First of all, your articles can be displayed in a regular grid or a masonry layout. That's two options. Plus, you can turn the sidebar off/on for each. So that's four options! FYI: The masonry layout uses 3 columns without the sidebar, or 2 columns plus the sidebar.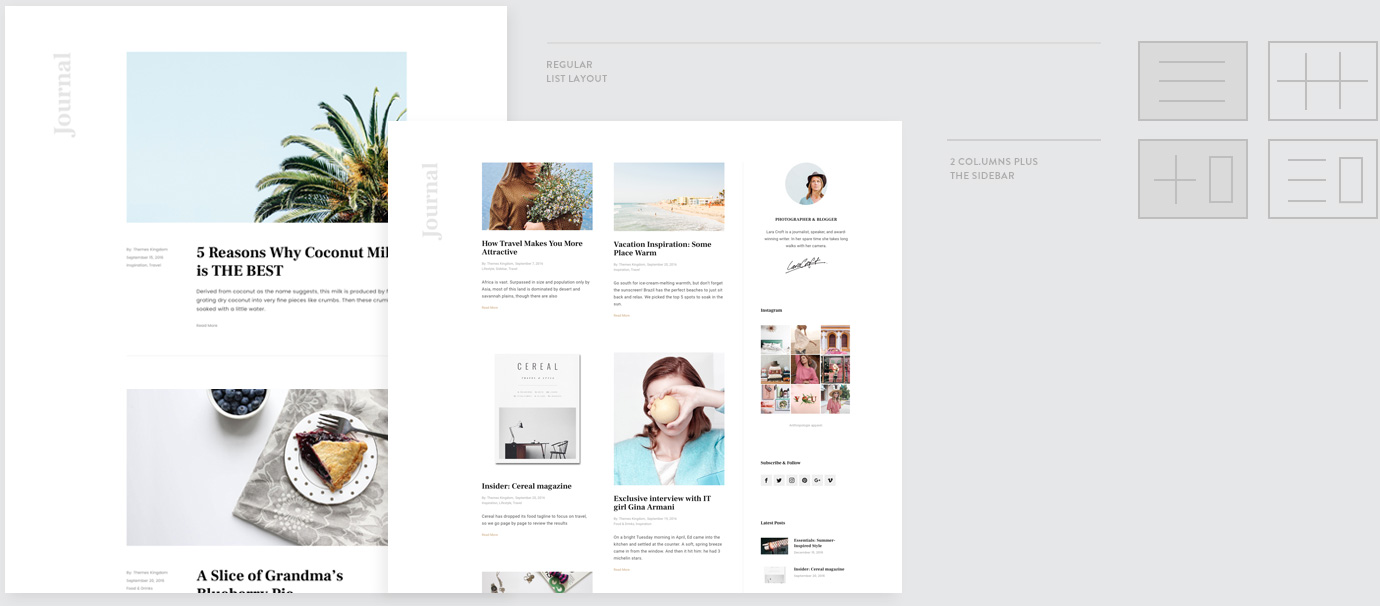 800+ fonts
It's easy to use WordPress' built in Customizer to pick fonts. There's over 800+ fonts you can use thanks to Google Fonts that are baked in the theme. That means you can customize the theme to fit the mood and look you want! Don't know which fonts to pick? We made a few font pairs that you might like.


Custom made
Choose the colors you like best for the theme: you can alter the header, text, links, logo, and background color. The sky's the limit! So, you can easily add personality to your Veni website and make it look and feel different from other websites. The hard part is picking your fave colour palette and font pairings; the easy part is the few clicks you'll make to transform Veni.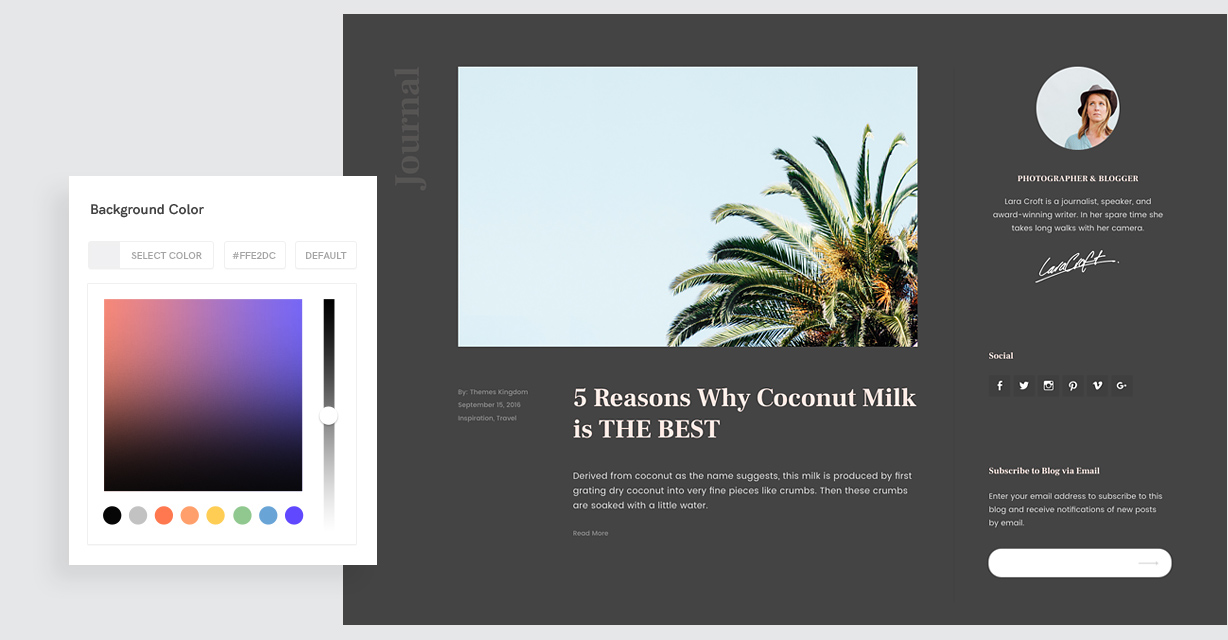 Price and availability
Veni is available right now for just $35! Our annual and lifetime subscribers can download it for $0 (yep, it's included with the subscription). Want to subscribe? Check out plans and pricing.
We're running a limited launch sale! Get 20% off when you buy Veni until October 10th! Just use the discount code "veni20" at checkout.
[button url="https://themeskingdom.com/wordpress-themes/veni-fashion-lifestyle-blog-wordpress-theme/" style="tksc-btn-inverse" size="" type="round" target="_self"] Check Veni WordPress Theme [/button]