Did you know that only 22% of businesses are satisfied with their conversion rates? (These businesses are not the best online shopping sites.)
That's right! Just a tiny bit over one-fifth of all businesses know how to manage and organize their marketing activities and create a high-conversion website design.
But, don't let this number scare you. You can find your place in the crowded e-commerce sky. You too can shine bright like a diamond.

How?

Well, for starters, you'll need to give your best to create a bespoke e-commerce shop that has an interactive user experience. Then, you'll need to take care of the site security and creating compelling, persuasive website content.
These are just basic tips.
But, to compete with the best online shopping sites and e-commerce moguls, you'll also need a bit of luck in the form of cost-effective magic tricks not everyone is familiar with.
So, to help you hit the e-commerce homerun, we decided to analyze some of the major retail websites and provide you with a list of design and marketing tricks they used to get more customers.
Here's what you can learn (and copy!) from the best online shopping sites:
Disclaimer: Themes Kingdom team is not affiliated with any of the mentioned plugins nor do we earn a commission if you end up purchasing any of the tools through referral links in this blog post. We merely wanted to name some services that can help you build an online shop of your dreams.
1. Keep the homepage design simple
If you have read the article on how to make a logo from scratch, you might remember Ivan's tip 一 Keep It Simple Stupid (the KISS principle). In that post, Ivan mentioned that using geometric shapes in logos can improve the scalability of the logo. Believe it or not, the same thing goes for a homepage design. When you are creating the homepage design, think about how you can ease up the process of buying a product.
Take Etsy's homepage, for example. This is one of the best online shopping sites that has an elegant homepage with simple navigation. Visitors can easily navigate through the categories that are displayed once they hover over the main menu.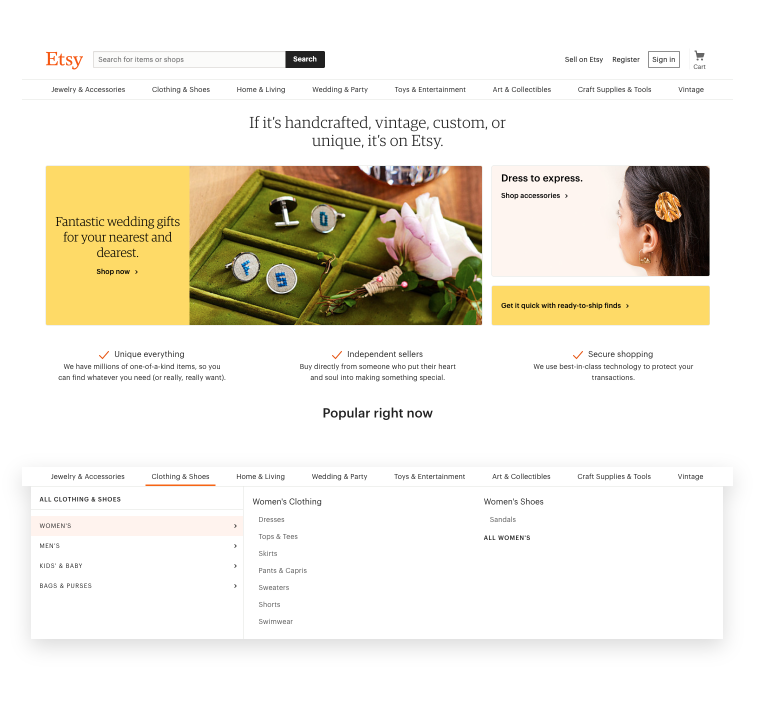 If you check our e-commerce themes, you'll see that the most theme have a full-screen slider on the homepage and a minimalistic, easy to navigate menu. That's no coincidence!
2. Add high-resolution images
It goes without saying that you MUST include high-resolution photos and videos of your products if you want to build credibility in visitors' minds. No user wants to see a blurry product image!

Don't believe us? Stop for a minute and think about how you shop online. If you are genuinely interested in a product, you are going to try to see the product in several different lights and environments to determine the price-quality ratio, that is, how much value you can get for the money you pay. We are sure you are exceptionally thorough and careful when buying high-end, premium products.
To emphasize the importance of high-quality images a bit more, here's an example of how AliExpress, one of the best online shopping sites, use product pictures. In the screenshot down below, you can see a USB type C cable. This product has a video and five more high-resolution photos to follow! Additionally, there is a zoom effect, that appears when you hover over a product image.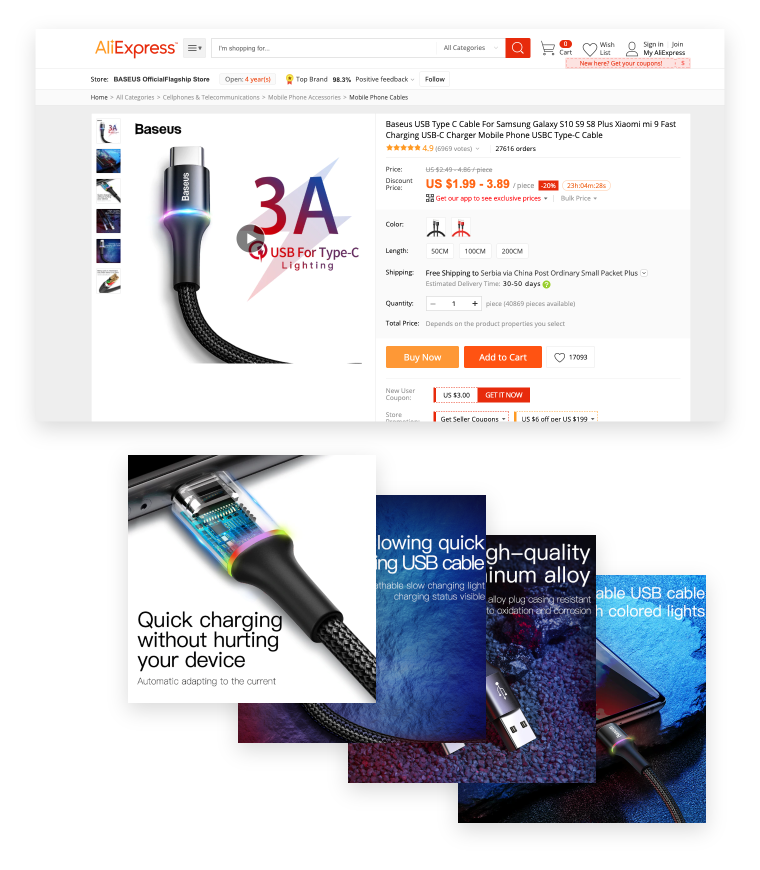 Sears does the same thing: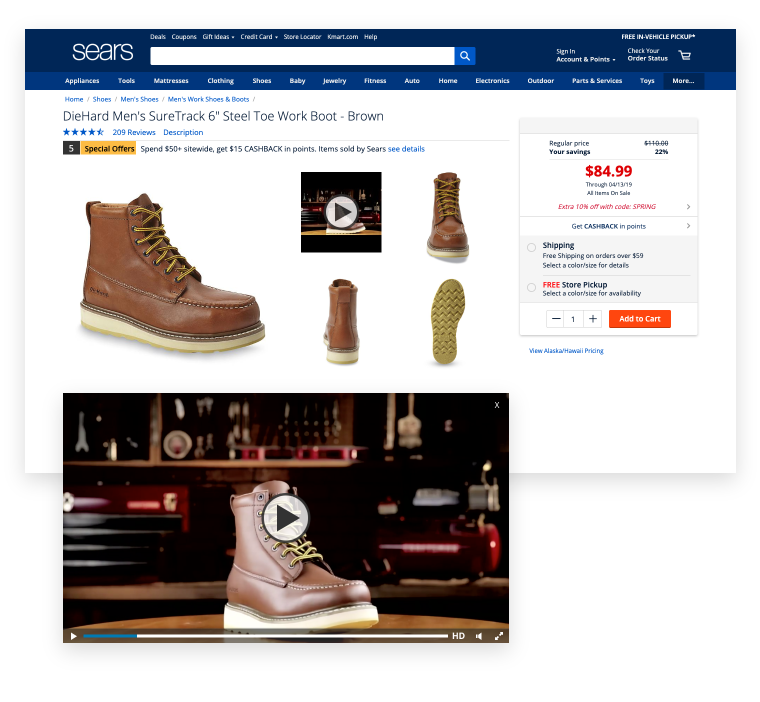 3. All content must be mobile-friendly and responsive
Apart from having a spot on images that portray your products in the right light (and a sales-y copy to follow!), you need to make all images and text mobile-friendly. According to Outerboxdesign.com, 79% of smartphone users have made a purchase online using their mobile device in the second half of 2018. Additionally, remember that in March last year Google announced that it is starting to index sites based on their mobile versions and that websites that had the mobile versions early-on were rewarded with higher rankings.
Bonus tip: There's a difference between mobile-friendly and responsive design. A website that is optimized for mobile has the option of adjusting the content and the functions to the smartphone users. A responsive website is the one that fits users' needs and devices completely.
In 2019, have a mobile-friendly and responsive design is a must.

So, what should you pay attention to when creating a mobile-friendly and responsive design?
There are so many tricks you can use to make content responsive. Here are some of them:
Make sure all the buttons and CTAs are visible across devices.
Product information and your company's phone number are not supposed to be images, but text so the visitors can quickly copy and share with their friends and family.
When users are trying to write a review, make sure that the text box is large enough to fit the screens of different smartphones and tablets.
In the end, remember that even the best online shopping sites test their responsiveness regularly. You can use Google Mobile-Friendly Test to do so.
4. Never delete negative reviews
Did you know that 82% of users when looking to buy a product, are seeking out for negative reviews and 95% of them get suspicious if there are no bad ones?

Knowing these statistics, it probably wouldn't come as a surprise that a small number of bad reviews can increase your conversion rate. That is why the best online shopping sites rarely delete this type of comment.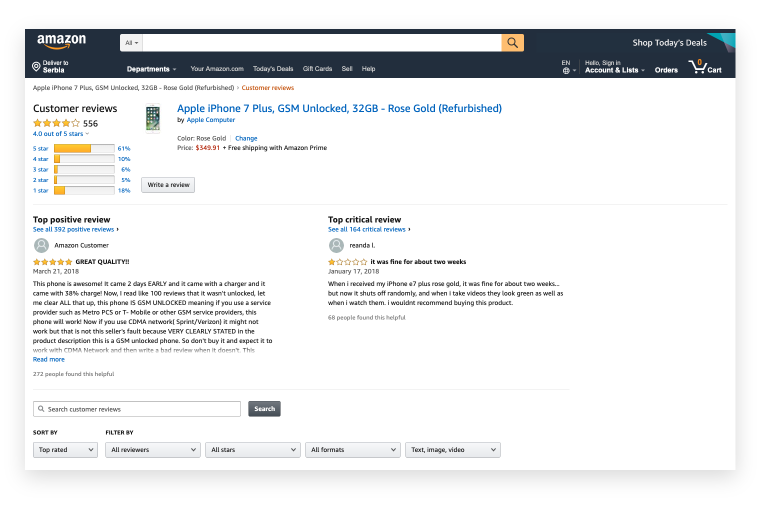 But, not deleting a negative review is just the first step.

The thing that counts the most when it comes to negative comments is how you handle the situation. Our advice is to respond to those comments as soon as possible, offering help, and doing anything that is in your power to change the customer's review. By being polite and taking an interest in the situation, you can turn a hater into a supporter. Additionally, remember that a negative review your customer support answered on, can serve as an example of how you communicate with the customers.
5. Emphasize the best deals
The best online shopping sites – large retailers – always try to motivate customers to buy more by offering the latest discounts.
Take Walmart as an example. On the homepage, there is a 35% discount offer on "patio furniture, decor & more". If you decided to make a sale, be sure to make that clear by placing it on the homepage.
6. Focus users' attention on the most popular products
Just like you would emphasize the best deals, you should consider highlighting the most popular products and the latest news regarding products.

Need some inspiration? Check out how Barneys, one of the best online shopping sites, recognized the opportunity. On the homepage slider, Barneys included a visual with a headline Festival Daze, that, once you click on it, leads a user to a list of products that are commonly worn on music festivals. The timing is perfect since Coachella starts on April 12.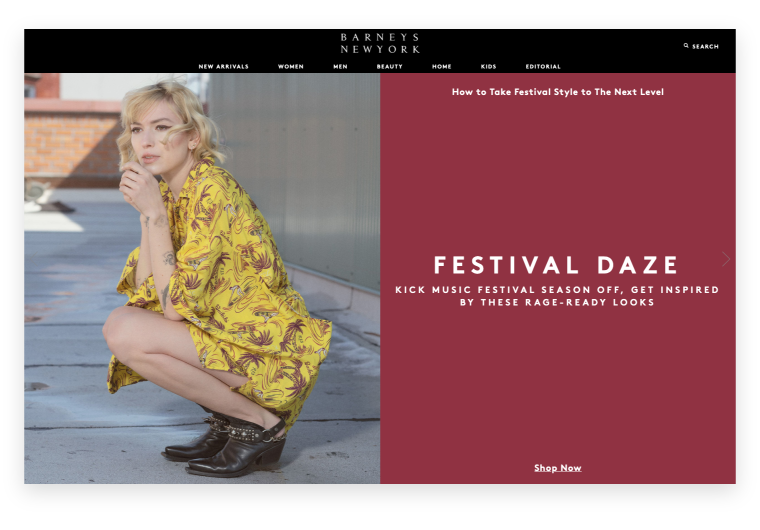 7. Don't skip the Add to Wishlist button
Imagine the following scenario: a user (let's name her Claire) gets on your website, in the search for the perfect birthday present for a friend. In that search, Claire finds four items that would work amazingly as a gift. Since she is not sure which one to choose, she decides to add these products to the wish list and share it with three of her closest friends, so they decide together.
Are you seeing a window of opportunity here? You should.

By adding a wishlist feature, you are giving users the option to save the products they wanted to buy and the opportunity to buy them later. No wonder all the best online shopping sites included this option!

If your WordPress theme doesn't have this feature, our advice is to check out the WooCommerce Wishlist Plugin. This tool allows users to create a wishlist, remove products from the list and add them to cart. "Add to Wishlist" button is highly customizable. Another benefit is that the wishlist can be shared on social media channels 一 via Facebook, Twitter, Pinterest, Google+, WhatsApp and email.
If you need a bit of inspiration, check out Asos and its heart icon. The items with the heart icon are automatically added to the "<3" section (the wishlist) on the website.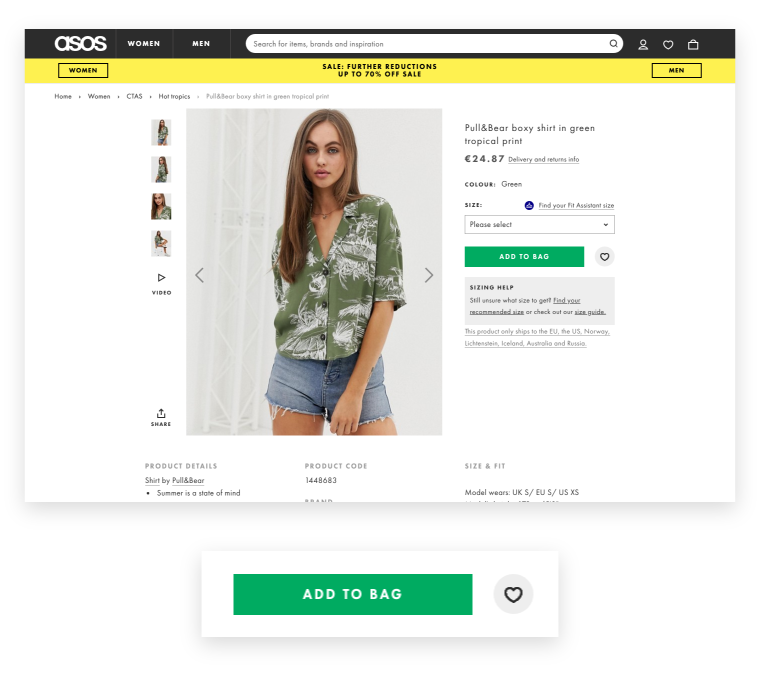 8. Add the "You might also like" section
"You Might Also Like" is most commonly placed below the product page. This small but prominent section can quickly generate sales. Best online shopping sites know this trick well.

When users spend more than just a couple of seconds checking the product out, that means they are interested in buying it. They are checking for product specifications, shipping information and doing the calculation whether or not the product price fits their expectations. They are so close to buying it! Once they add the product to the cart, you can offer similar products or products that go very well with the one they purchased. That is the moment in which they are willing to spend more money.

The best thing about adding the related products section? You don't have to spend a penny on generating more profit.
Here's how Asos included the related products section.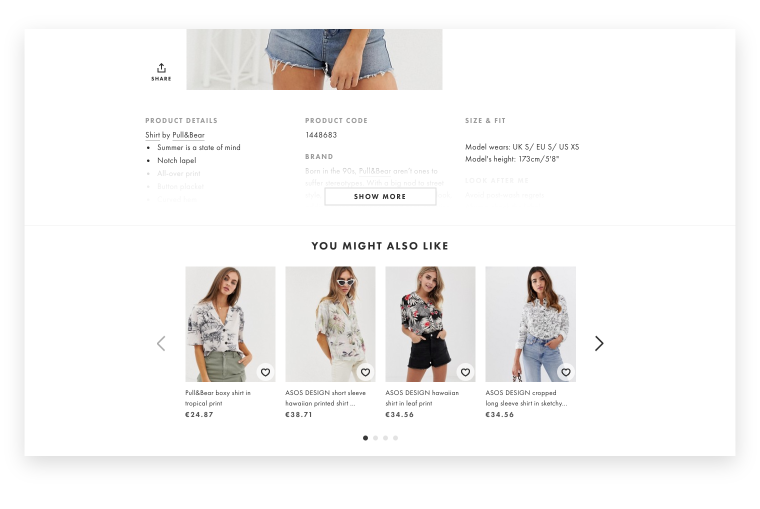 9. Provide detailed shipping information
Think about how you order online. When browsing on the best online shopping sites, trying to buy a product, there is, almost always, at least one thing you are worried about 一 a tiny amount of uncertainty. Whether you are debating product quality, shipping information, delivery time or something else, you are never 100% sure that you are going to get what you paid for.
That is why you should try to remove this feeling of uncertainty users get when they want to buy products on your e-commerce website. You can do so by providing FAQ (Frequently Asked Questions) section users would be delighted to read.

In that FAQ section, you can include detailed shipping information and highlighting the information considering delivery time and shipping costs. Be sure to emphasize if you offer free shipping (according to HubSpot, 24% of shoppers are ready to spend more to qualify for free shipping) or same day delivery, as these benefits can attract users attention immediately.
If you want, you can include a cost calculator and product tracking option.

A cost calculator is useful because customers don't have to do the math themselves. If they don't calculate the costs correctly, you can expect some unnecessary and unpleasant calls to your customer support.

So, to avoid these problems and potential misunderstandings, follow the steps of the best online shopping sites and include detailed shipping information on your website.
10. Create an easy to navigate Contact Us page
In the end, don't forget that, even if you think you've provided all the information regarding the products and shipping, and included FAQ, there is always something left unsaid.

This is we would highly recommend that you make it easy for users to find the Contact page and, in just a couple of steps, contact you. Please remember that all their questions must be addressed (no matter how trivial they may seem), if you want to position yourself as a trustworthy brand with excellent customer support.

The common practice for e-commerce websites (and best online shopping sites) is to include a shop's phone, email, a contact form and, in some cases, a Google map. But, why don't you consider a simpler approach to Contact page design? Here's how Sears did it: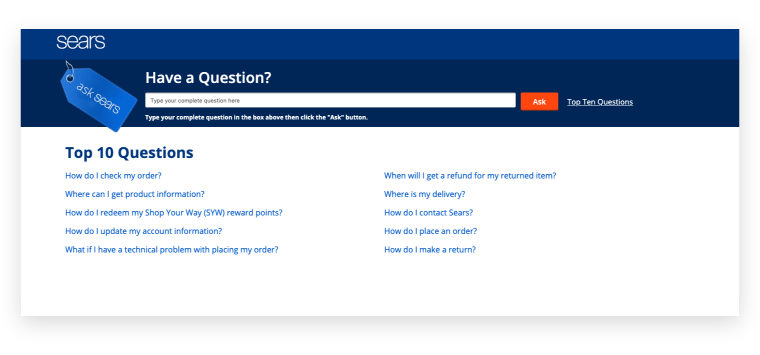 As you can see, this retailer included the frequently asked questions on the Contact page. Above those questions is a text box in which users can type the question and press the Send button. It's so intuitive and quick!
Conclusion
Best online shopping sites became the best ones for a reason.
E-commerce websites we included in this post were the ones that invested years in building a consumer base and learning from their own mistakes. They are constantly trying to improve website design and adjust to consumers' needs to the max.
Now, it's time you do the same. You have exquisite role models to look up to! All you need is a bit of courage, and your e-shop will, undoubtedly, run like a charm.
Go get those customers!