Aperitive
Restaurant Theme
Theme Details:
Browser:

IE9+, Firefox, Safari, Opera, Chrome
Requirements:

5.1.1
Gutenberg:

Ready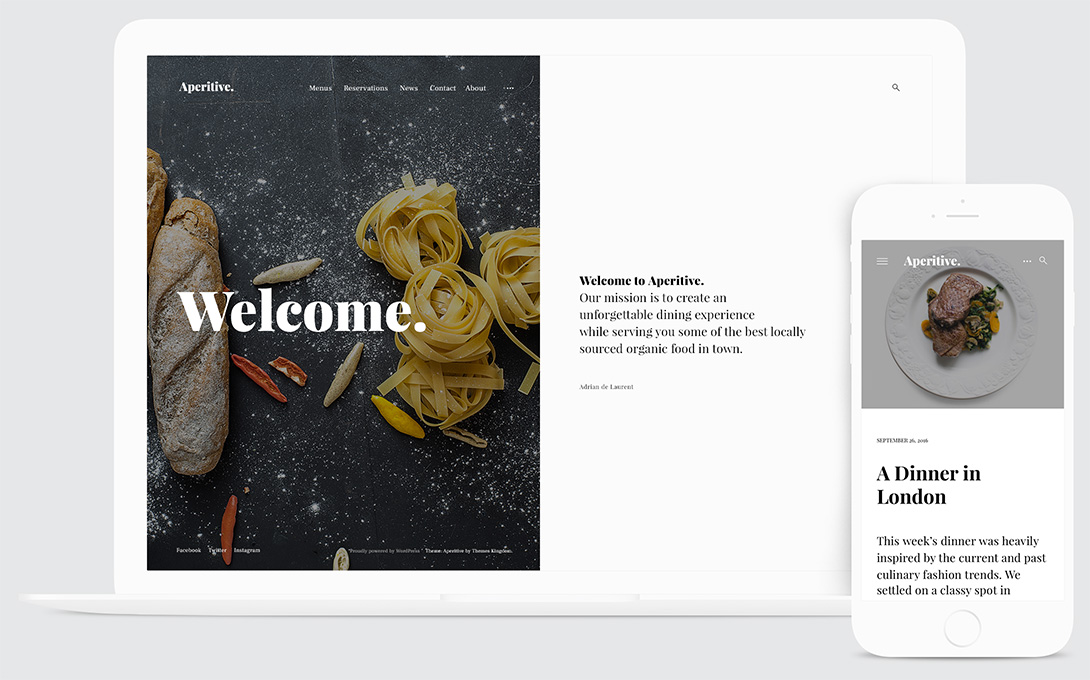 Aperitive Theme Demo Examples
About
We made Aperitive to engage and combine your visual and culinary senses, offering a presentation fit for a michelin star chef. the simple fixed two block layout combined with the right choice of typography vs. photography gives this theme a whole new dimension.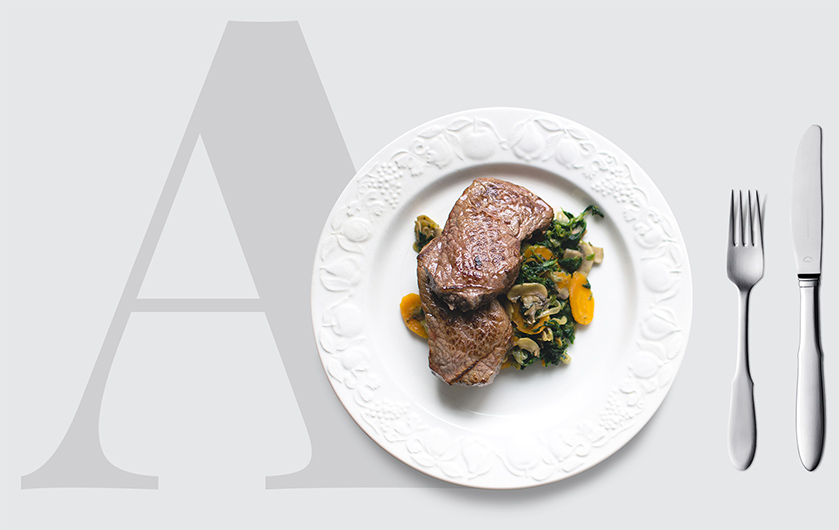 Fixed two block layout
A simple yet practical two block layout inspired by magazines is made specifically with the restaurant, cafe/bar, club owner looking for a contemporary way of presenting their business.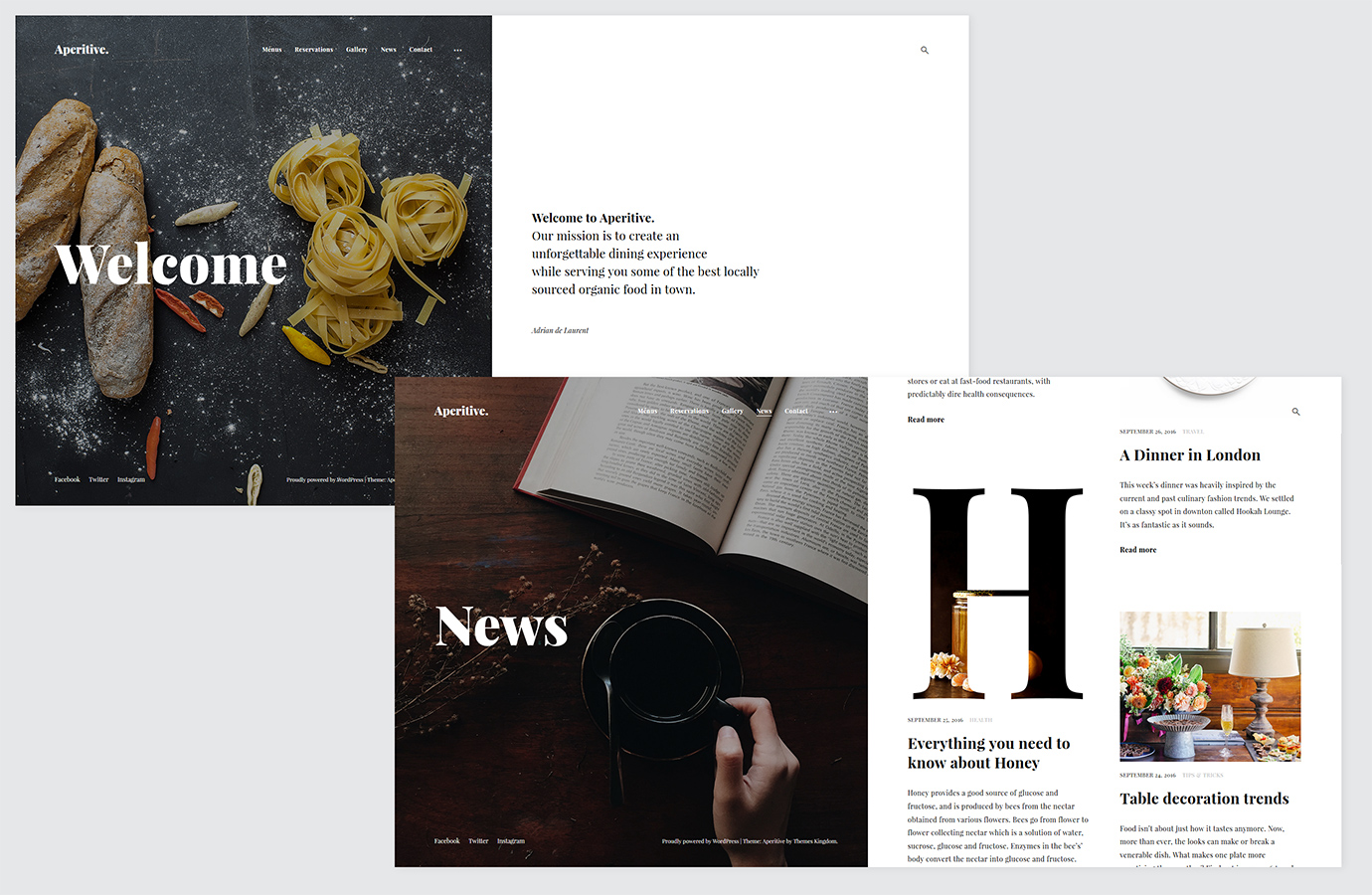 Menus & Reservations
Aperitive comes with a predefined Menu page which makes it easy to list all your offerings, as well as a Reservation plugin which allows your customers to easily check your current table availability in just a few clicks.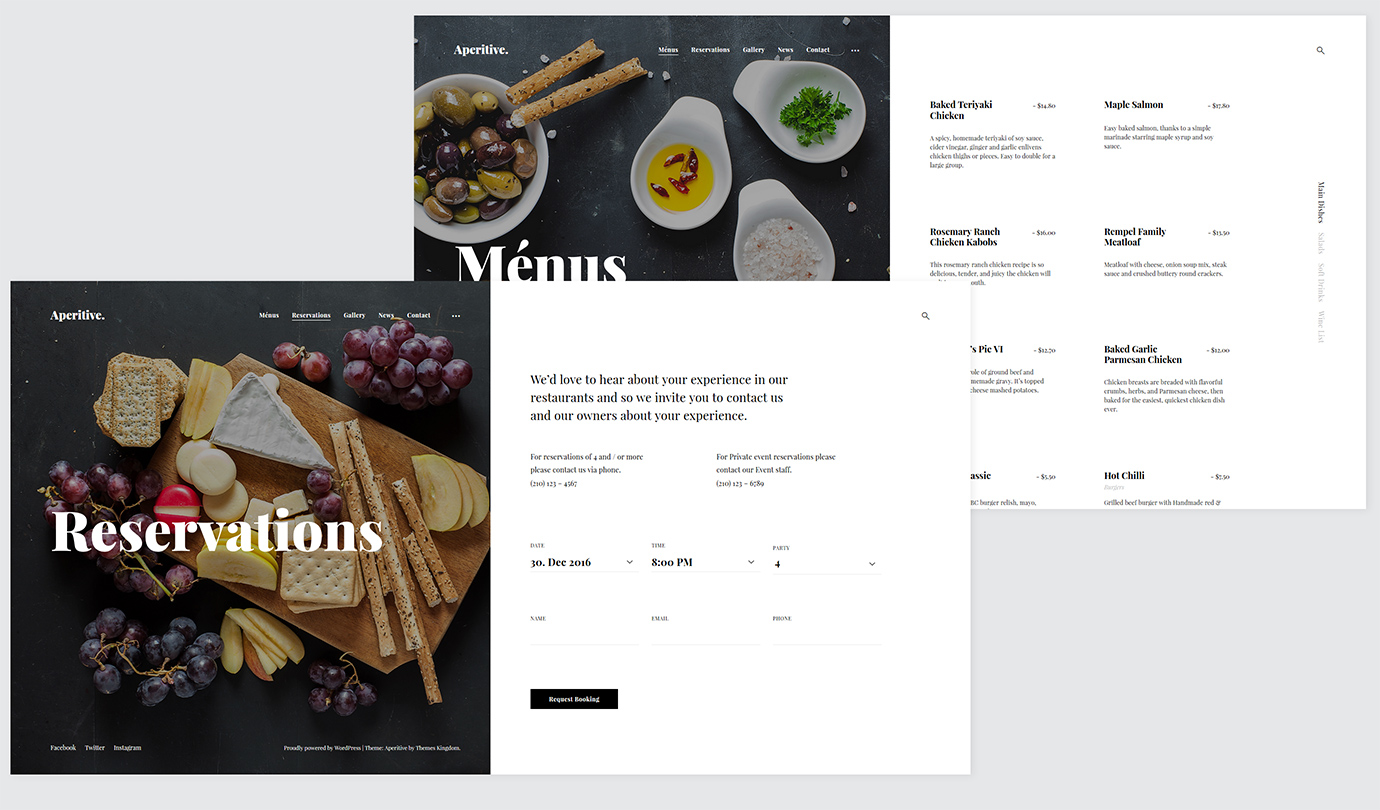 Hidden Sidebar
Aperitive comes with a tucked away sidebar which fluidly expands from the screen's right edge. This way people can focus on real content without unnecessary distractions.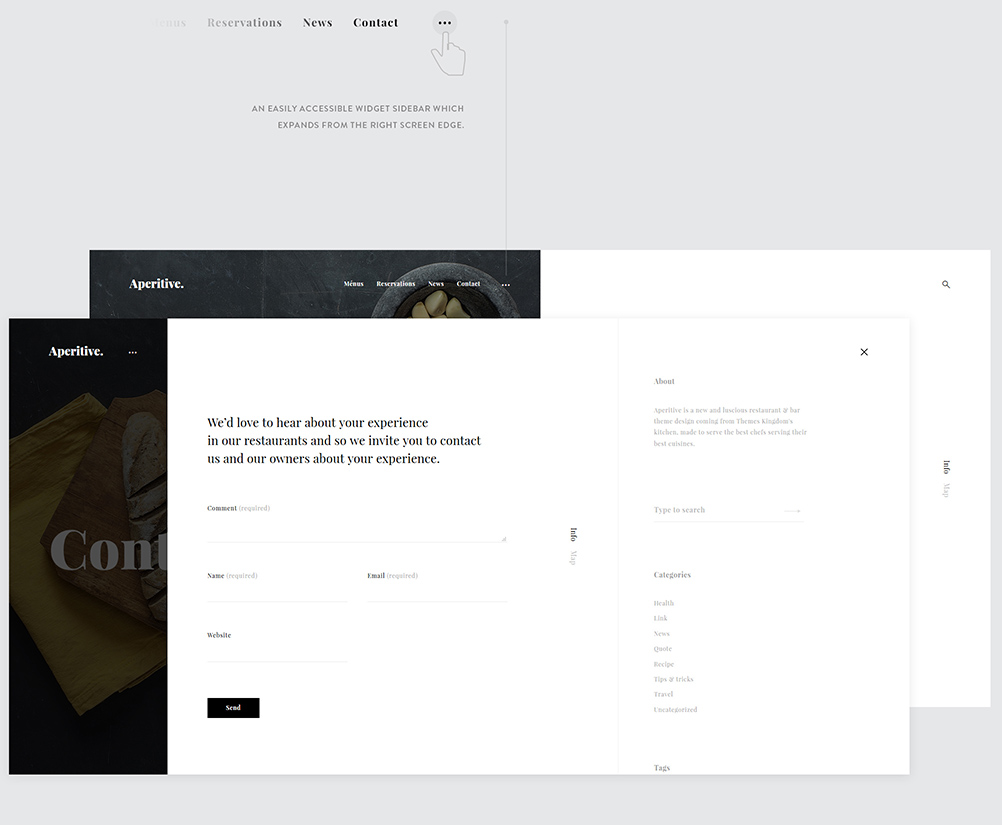 A Blog with Taste
Give your passion for words a look to go with the taste. You can swap between the one and two-row columns, whatever fits best.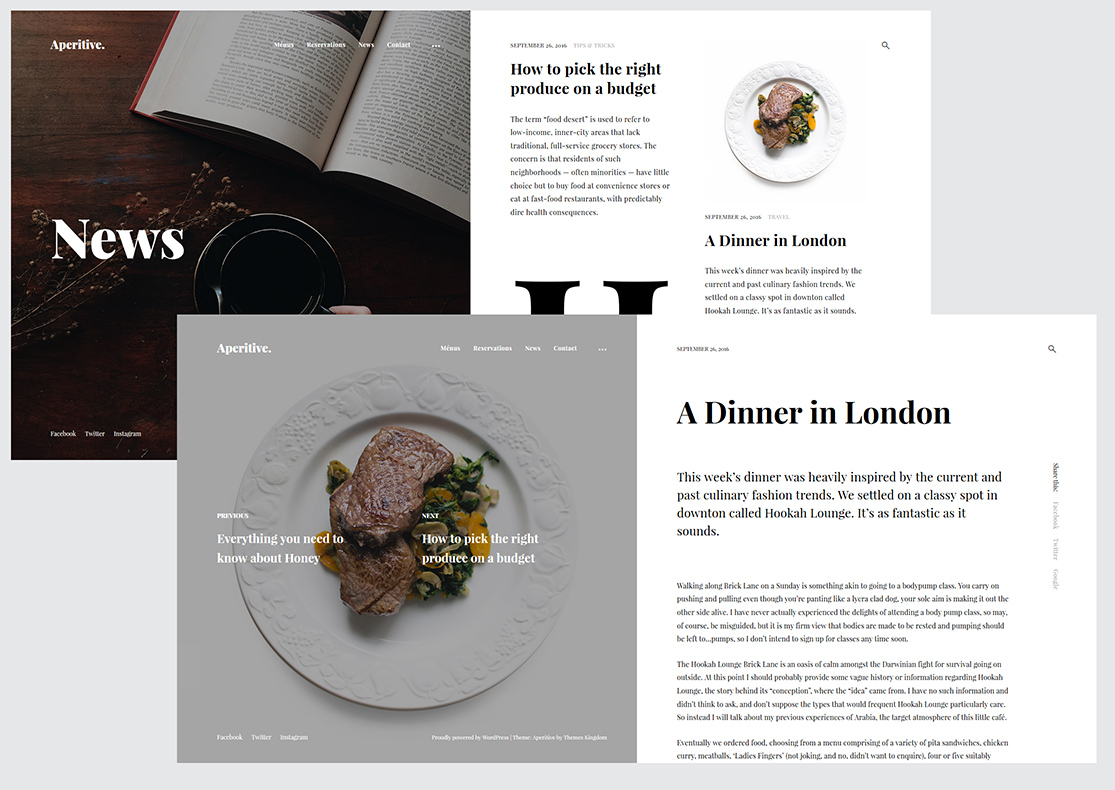 Custom Color Choices
Choose the colors you like best for the theme.
You can alter the header, text, links, logo, and background color.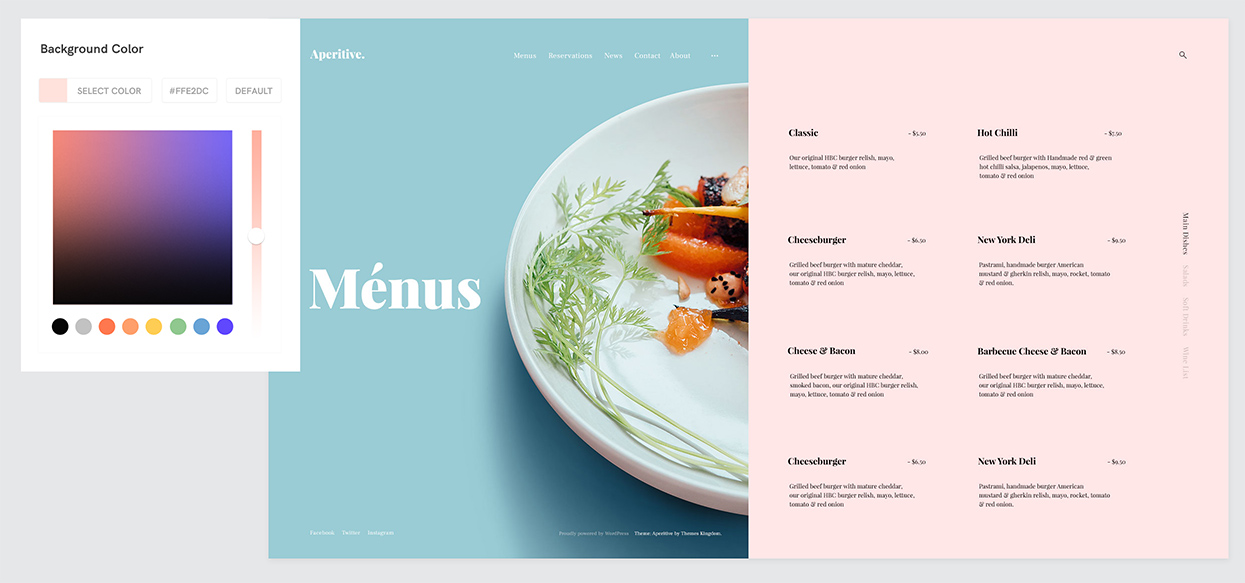 Typography
Bring your business closer to your niche audience and set the right mood with all the typographic customization options Aperitive has to offer.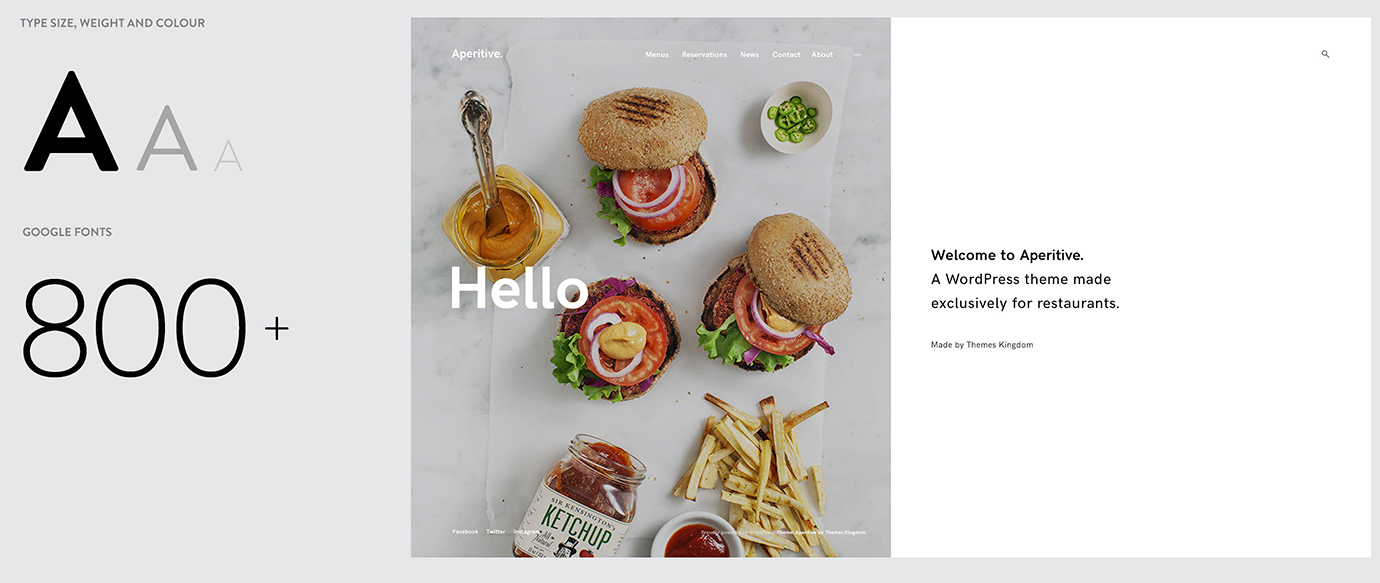 Theme Standard Features
Responsive by design
The layout reflows beautifully to any screen size, so it looks excellent from phones to tablets, to 4k displays to TVs.
White label theme administration
We've removed all our branding from the theme, so it's perfect if you want to customize it - especially for your clients.
Easy translations
Display the theme in any language using .PO files. Give us your translation and we'll include it in the theme's official language pack!
Google Maps
Save time with built-in Google Maps - add your location to a contact page in just a few taps.
Contact Form
The contact form hides your email address but still lets your visitors begin a private conversation with you. This is better than moderating messy comment threads.
Custom widgets
Display your ads, tweets, Facebook page and other dynamic content with a bunch of our custom widgets.
Shortcode Generator
Change complex parts of the theme without coding or technical skills. Use a shortcode to edit rows, columns, buttons, drop caps and stuff like that. It's an absolute time-saver.
Photoshop Files Included
You get all the theme's .PSD files so you can make custom changes if you need to.
Multiple Support Resources
People love our fast support. Get help at our support center, or even Twitter and Facebook. P.S. All themes come with detailed documentation to help you get started.
Theme Purchase Options
$

39
Single theme
Instant theme download and help file.
Lifetime access to theme updates.
Lifetime access to speedy support.
Install and use on unlimited domains.
Buy Now
$

69
One year Membership
One year access to all WordPress themes.
Lifetime access to new theme releases.
Lifetime access to support & updates.
Install and use on unlimited domains.
Most popular
Sign Up Now
$

49
Lifetime Membership
Lifetime access to all WordPress themes.
Lifetime access to new theme releases.
Lifetime access to support & updates.
Install and use on unlimited domains.
Sign Up Now