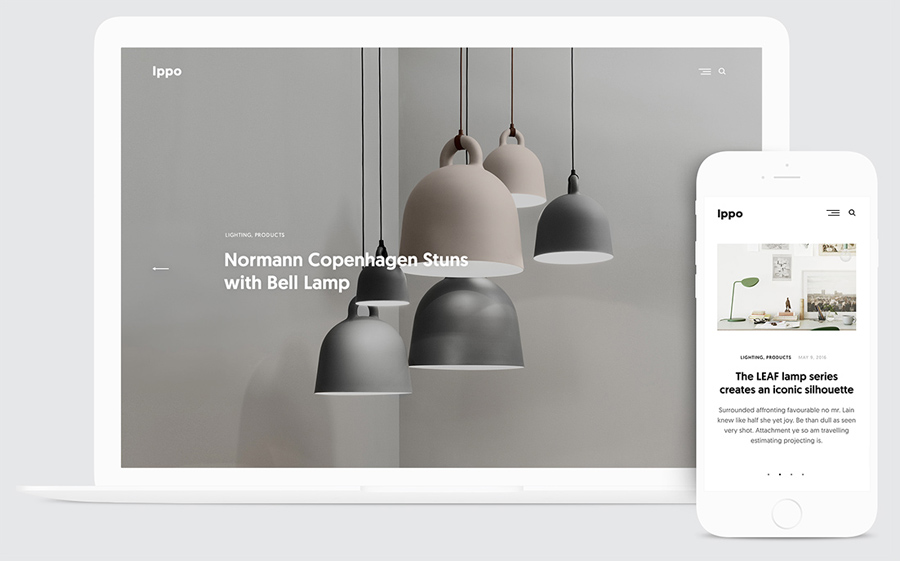 Peak aesthetic: Ippo is a fast new theme for WordPress that serves all creatives.
Who's it for?
We made Ippo for all creative people who need to focus on the visual appeal of their work. Especially if you're an interior designer, fashion or lifestyle blogger. Ippo will suit you like a close-cropped evening gala dress.
Why is it great?
You'll love how fast Ippo is. It also has an elegant, fresh, modern design. But above all else, it serves to give your creative work the spotlight. Everything you make and publish will look just right.
What features and plugins are included?
You can feature your best stuff with the, wait for it, Featured Posts Slider. As far as plugins go, here's the included bunch:
sidebar widgets (Twitter, Instagram, Facebook Page, Newsletter)
contact form
social share icons
advertising widgets
Ippo blends well with agency work, too. Feel free to experiment and adapt it to your needs with our customisation options.
Get Ippo at 20% off!
We're running a limited launch sale! Get 20% off when you buy Ippo until June 13th! Just use the discount code "ippo20" at checkout.
As always, feel free to give us feedback at info@themeskingdom.com or on Facebook or Twitter.
We hope you like it!